All of you who've known me and been reading here for a while know how I opted out of the thing that's seemingly pushed on encouraged for all new mothers these days. (I stand by my choice and I'm not ashamed to say that I didn't nurse my babies… if you want to, do. If you don't… then don't.) That said, you're probably now going to question WHY I'm posting about this new product designed to help new moms nurse. I'm telling you about it because I genuinely think it's fabulous: Itzy Ritzy has just introduced their Nursing Happens™ Infinity Breastfeeding Scarf. (I wish this was available a few weeks ago when I was buying baby shower gifts for the new moms in my life…)
Easily transforming from a trendy scarf to a soft, breathable nursing cover, the product is conveniently designed and easy to use with no snaps, no buckles and no complicated wrapping required. This stylish little ditty unwraps from a double-looped infinity scarf around the neck to a single loop that drapes over the shoulder for feedings. It provides full coverage for nursing moms and comfort for their precious babies.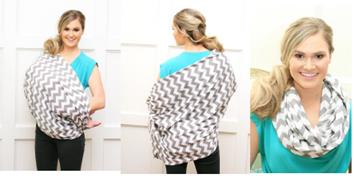 It's also offered in three fresh designs – just in time for spring & summer – that coincidentally match the decor of this blog… ha! (No, I don't have stake in the company.)

Costing just under $25, the
 Itzy Ritzy Nursing Happens™ Infinity Breastfeeding Scarf
 is available for purchase at 
www.itzyritzy.com
, and nationwide via stores and independent specialty boutiques in April. Designed and Made in the USA. If you don't believe me how easy this thing is to use, watch it in action 
here
. Itzy Ritzy's famous for creating products that prove that parenting in style
is
possible, and has got celebrity fans such as Pink, Jennifer Garner, Tori Spelling, Beverley Mitchel, Sarah Michelle Gellar, and Nicole Ritchie… wonder if any of these mamas plan to have another baby soon to test this new find out? Hmmmm….
To prove how impressed I am with this fab invention, I'M GIVING ONE AWAY! That's right folks, just leave a comment below telling me your most crazy nursing-in-public story and it automatically enters you to win one of these fashionable and functional scarves for spring! Contest ends Friday, March 28 12amPST.
Ready, set, GO!
TheFabMom was not compensated for this particular post… I just thought this product was unique and very cool.