You all know how much I heart famous moms. Can't help it. It's my entertainment-journalist-meets-new-mom life. Showbiz is rough business and motherhood is a no-glam gig. As moms, we all get screamed at, cried at, whined at, yelled at in our home lives (I don't want Cheerios even though I just asked for them!!!!). Our lives 'flip out' without notice. And when you work in entertainment, consider that you can most likely get yelled at in your work life for doing nothing but your job (especially when you happen to work for Jeff Lewis of Bravo's famous hit Flipping Out). As strange as this sounds, staying happy can sometimes get challenging for the best of us.
Jenni Pulos, star of Bravo's Flipping Out and Interior Therapy With Jeff Lewis, is a new mom whose crazy-fabulous work and all-things-baby home life might sometimes add up to being waaaaaay too much to handle for the average mama bear. In Jenni's new book GRIN AND BEAR IT:  How to Be Happy No Matter What Reality Throws Your Way, this savvy woman shows us, through her own experiences, how to turn challenging situations on their head, navigate through negativity and prosper.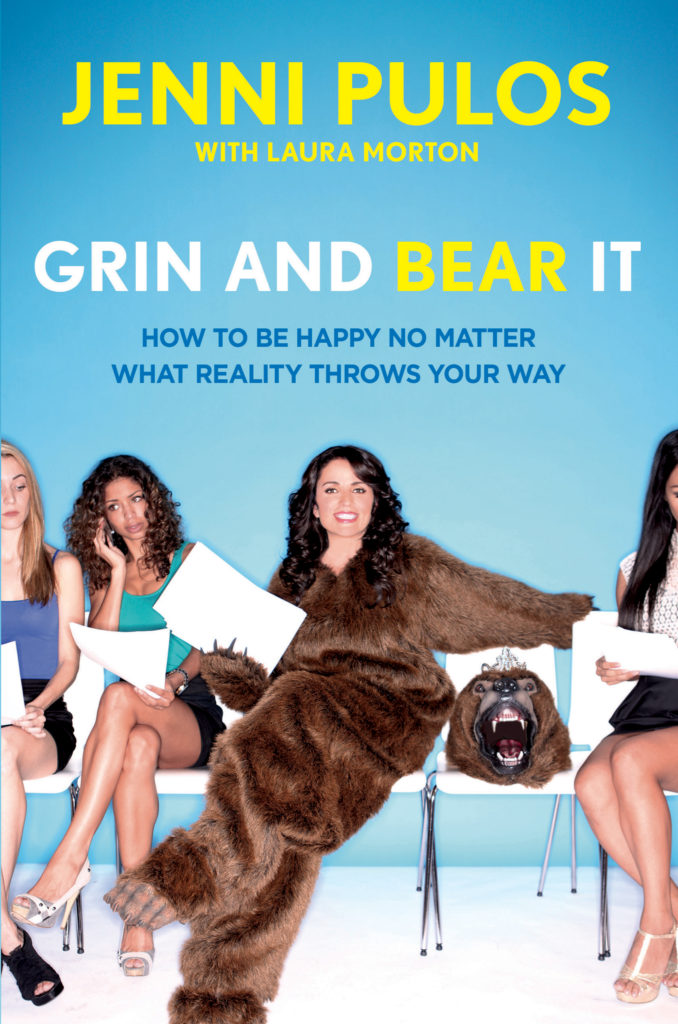 This chick's got some wild stories (from before meeting her famous boss Jeff). From her high school years surviving a hit below the belt as the school mascot, bringing down the house as a rapping Brownie at the Apollo theater in Harlem, to the unraveling of her marriage on national TV, Jenni's hunger for the spotlight and it's results would become a wake-up call for every area of her life . "As long as they're laughing at me," Jenni, a self-described one day at a time recovering ME-aholic thought, "they can't hurt me." (I'll leave the selling sausages at a famous farmers market story – that required suggestive performance art – and Dr. Drew and the sex show for you to discover in the book.) But the more curves life threw at her, Jenni figured out how to change from victim to victor.
In this hilarious 'memoir-advice-and-how-not-to' book, Jenni shares:
•        You can fail, be betrayed, totally humiliated… and not die. (I can totally back this up.)
•        The worst-case scenario often isn't.
•        The more mistakes you make, the more you realize there is nothing to be afraid of.
•        "I don't know" is a power position. (I think I need to adopt this asap.)
I have to wonder if she applies her hard-earned life-lessons to motherhood? With daughter Alianna almost a year old (the pregnancy/birth is featured this season on Flipping Out airing now) Jenni spills, "The hardest thing about being a mom is having self control to not worry that you are doing everything wrong. I try to make Alianna feel calm and happy at all times even though I may not be. Also, I never realized how important burp cloths would be. You also learn that time flies when there are bottles to feed, diapers to change, and songs to sing. I am fortunate that so far, so good, she seems to dig my rapping. (For those of you who haven't heard Jenni's hysterical raps about potty training… get on it NOW.) I've met Jenni in person, seen her rap firsthand and also happen to share a few real-life commonalities with her (go UCLA Bruins). Not to mention we're both married to men who are married to hospitals and almost NEVER HOME. Ha! In person, I can tell you that Jenni is warm, friendly, funny and as approachable as can be. (That's the type of fabulous person I like to hear wisdom from.)
Jenni Pulos' unconventional point of view and almost unbelievable true-life-tales in GRIN AND BEAR IT are co-authored by New York Times bestselling author Laura Morton. This book is all about surviving and thriving… and isn't that what motherhood is all about anyways? Check out the book available at Amazon, Barnes and Noble and more! NOW!