Girls just wanna have fun. Right? Right. With two little girls under the age of three, I feel like I've turned into a birthday-party-planning diva that is tiring of all the usual themes. (Despite my love of crowns, I might just scream if I see one more pink princess tablecloth….) So in the spirit of my baby's second birthday coming up (SECOND birthday!?!) here's a list of my most favorite and fabulous (and self-created!)  birthday party ideas for girls to hopefully ignite your own inspiration…
1) LUCKY DUCK LUAU! Everything starts with… Invitations: Find (or, make) something that involves a duck and a palm tree (when I did this theme for my baby's first birthday, I found the perfect invites on Lil Duck Duck Designs). "Aloha! Get your quack on at a lucky duck luau… Our baby is turning 2!" Food: Hawaiian (duh… think pulled pork sandwiches, teriyaki chicken, sweet Kings Hawaiian rolls, white rice, cold macaroni salad, lots of pineapples, dried coconut & mangos & macadamia nuts to snack on). If you're really into it, provide some shaved ice. Activities/Decor: Hula hoops, skirts, leis, tiki torches, music by Don Ho, limbo… and rubber duckies floating in fishbowls with blue-tinted water and tropical flowers for centerpieces.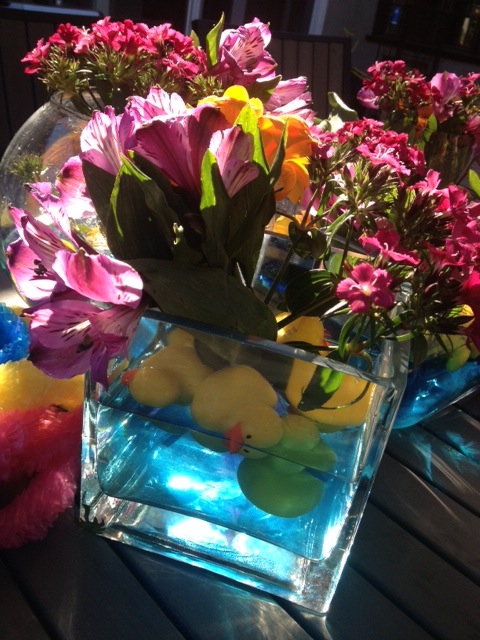 2) FEISTY FLOWER-FAIRY FIESTA! Invitations: Shaped like fairy wings, neon colors (hot pink, bright green, electric blue), add real flower petals for a surprise. "Our feisty flower gal is finally turning five! Find your fairy wings and join our fiesta!" Food: Chips+guacamole, enchiladas, tacos, rice, beans… all things Mexican. (Yes, it's ok to serve the grownups margaritas). Activities/Decor: Fairy wings on the gal-of-honor, pixie dust (i.e.: confetti) everywhere, flowers (from your own garden?), a humongous flower-shaped piñata. If you're really into it you can grab some of those cheap, wearable fairy wings or wands from a party store and have your small guests decorate them with stick-on rhinestones, glitter and paint.
3) PINK PUMPKIN PALOOZA! (for a gal born around Halloween…) To see details for this and the rest of my wacky-and-wild ideas, visit this post on The Right Start blog here.