I'll be blunt: I don't even try to do Christmas cards because I can't get it together in time. Don't want to try. Don't really care. So what. I like New Year's Eve much better anyways. Always have. Most likely always will. The reflection of year's past, the planning of new goals for the future, the hope for accomplishment, the thankfulness for life's blessings, the happiness felt knowing that you got through another year (minus the getting older part, but we're all in the same boat there folks), the fresh start for a new attitude. THAT'S WHY I DO NEW YEAR'S CARDS.
And you bet I'm IN the picture too.
A few weeks ago I came across this semi-indulgent photo of my  little fam from my cousin's recent engagement party. If I use this for our card, will people think we're obnoxious? Will they think I'm always drunk? Will they roll their eyes at us being all decked out? Will they wonder why the heck I insist on inserting myself into our holiday greetings every year? I'm using it.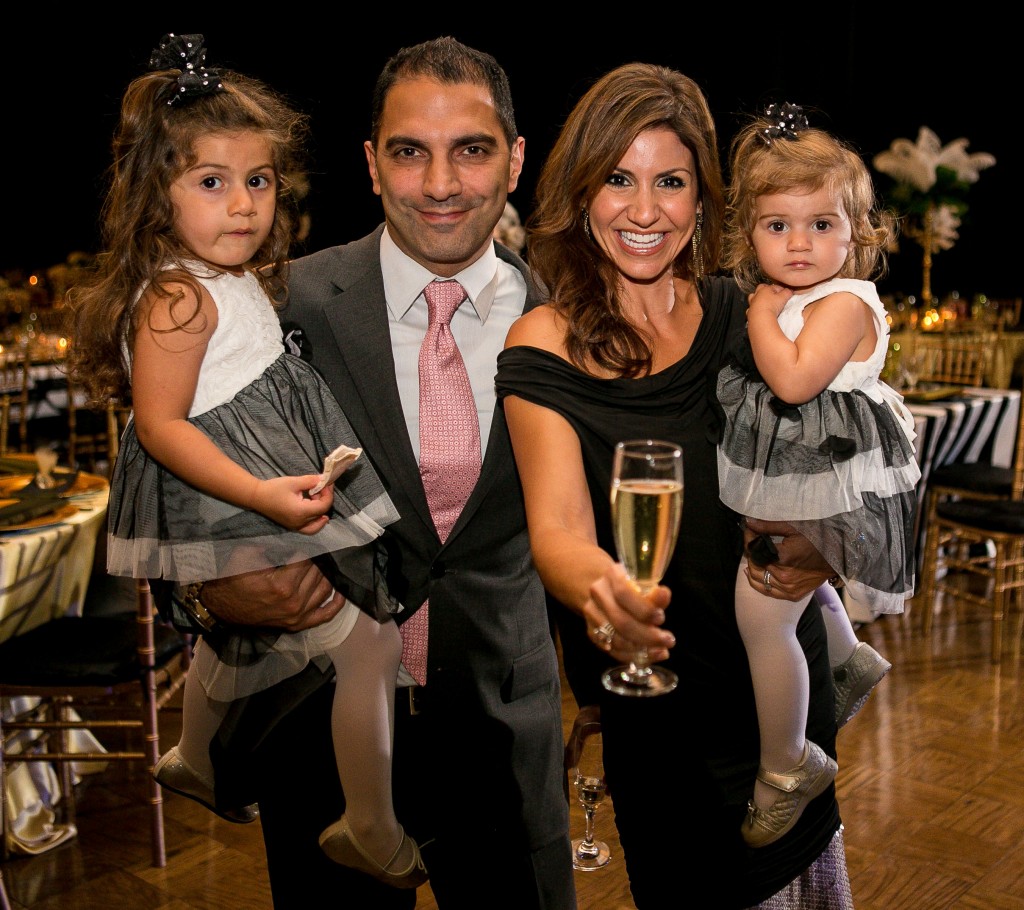 Last year, Allison Slater Tate's "The Mom Stays In the Picture" was a huge fabulous hit. I absolutely adored her piece, and I am not too proud to say that I've been living her realization for as long as I've been a mom myself. I've always felt like the mom should be in the picture. Not in a Kris Jenner way, but in a This-Is-Our-Life, Mother-and-Child(ren) way. I'm not vain (well, not really that vain, compared to others in LA/Hollywood)… but I do enjoy seeing myself IN the picture. I'm the mom, I was there! I enjoy seeing my husband in the picture. I enjoy seeing the progression of our annual holiday cards (all New Year's, mind you). ALL of us are in the pictures, our girls with us… growing and blossoming TOGETHER. We are a family, and yes, it's OK for the parents to get in the picture and celebrate with the kids (we made them, after all).
Don't get me wrong: Kids should have their own pictures (without parents) too. And mine do (boy, do they… try to tell my husband to stop snapping photos like a nutzo paparazzi). But holidays are about family, and that's the most grand excuse I can think of to feed the mom-gets-in-pic philosophy. I fall in love with holiday cards I get of my friends' kids the second I open them, even when the parents' faces aren't there. But I admit: I want to see my friends! They are MY FRIENDS. MY FAMILY. MY LIFE'S MEMORIES. Just because we had kids doesn't mean we're not present and relevant anymore. Seeing my friends with their kids makes me just a teeny-bit happier than when they're not in the picture. Maybe that's wrong? I want to see my college roommate's smiling face… I want to see my childhood friend's gorgeous blue eyes next to her two little girls… I want to see how much my niece resembles my own sister. Call me selfish.
And call me obsessed with sparkle too. In addition to busting in on my own holiday card, I insist on blinging it out in the name of a new year. I love me some convenient Tiny Prints, but I LOOOOVE me some Tiny Prints with self-adhesive rhinestones smacked on. It takes about 5 extra minutes to package into the envelopes (1 or 2 rhinestones on each card), but I like to think my friends deserve some extra sparkle…
Nothin' wrong with some extra bling. (My only fail this year was not doing an actual headcount of recipients before ordering my cards. So yes, these ended up being 'family only' greetings. I guess needing more cards than last year is a good thing? Making a note for next year, folks.)
HAPPY NEW YEAR TO YOU! WILL YOU STAY IN THE PICTURE FOR 2014?