As many of you experienced a few weeks ago, I'm a bit obsessed with giving back this season. (I'm convinced it's the mom-compassion thing that's doing it. Or it could be the warm-and-fuzzy vibe at work, Hallmark's "Home & Family.") Through all the shopping and decorating and getting-together-with-friends before everyone disappears for their own family time, it hit me that there's a way to lump it all together to do real good in addition to giving yourself a sugar-high: THROW A GIVE-BACK PARTY. Have a party that gives back to others in your own community. Make it easy, accessible, during the day (a playdate of sorts). Provide snacks, easy crafts and kindly request that each child/family attending bring a toy, canned goods, blankets, diapers or even socks to donate to a local charitable organization of your choice. You can do a big impressive invitation type of thing, or you can just call your closest circle of friends on the phone. Inspire your own littles to be Santa's Little Helpers. I wouldn't dare suggest doing this without trying it. So I tried it. TheFabMom's recent give-back 'experiment' was aptly named "Santa's Little Helpers" and took place at my local and fabulous Americana at Brand shopping center and benefitted Children's Hospital Los Angeles.
It didn't hurt that the Santa House at Americana at Brand already supports CHLA, by donating a portion of the picture proceeds to the hospital, so I was in luck and grateful for them to be on-board. Basically, I had this wicked little plan to partner with the great folks at Americana to offer complimentary pictures with Santa – at THE best Santa House in Southern California, if you ask me – as a means to get folks to get outta their house with their little ones and support a hospital that treats over 104,000 kids per year. (CHLA also happens to employ my husband, which is how I know how special CHLA truly is. Not to mention, they've got an incredible, go-to RN Remedies website that answers the trickiest of parent questions.)
So, in the spirit of being festive, fun and "filanthropic" (remember, everything on this site begins with an "F")… we cut and glittered handprint reindeer ears (led by the equally stylish, smart and sweet Laura of Hollywood Housewife),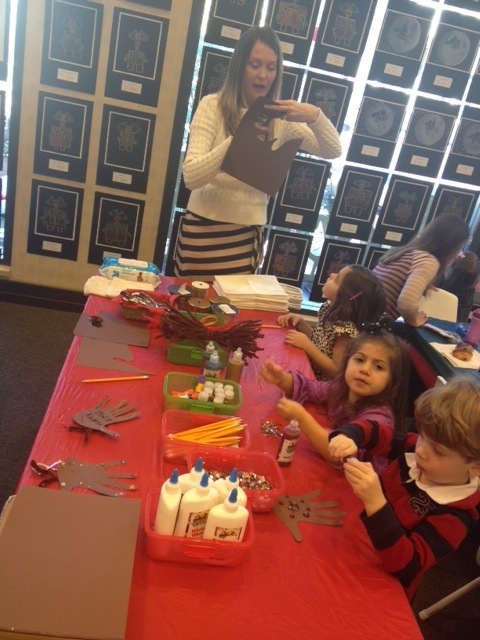 Crafted our own wrapping paper with stamps and sponge-paint (it's that Home & Family craft-thing, I tell ya),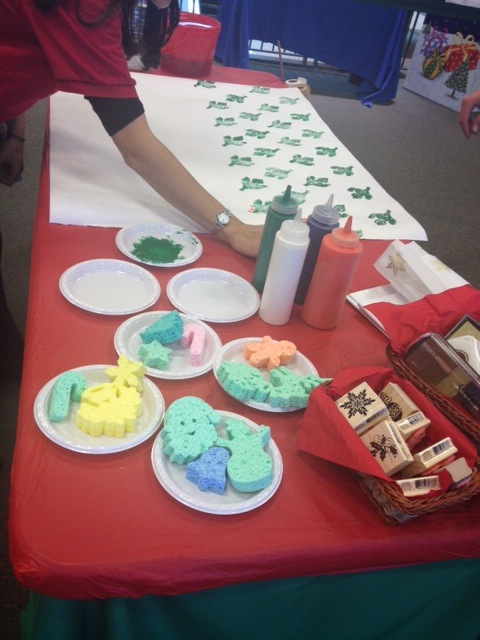 Feasted on delicious snacks from Deluca's Italian Deli,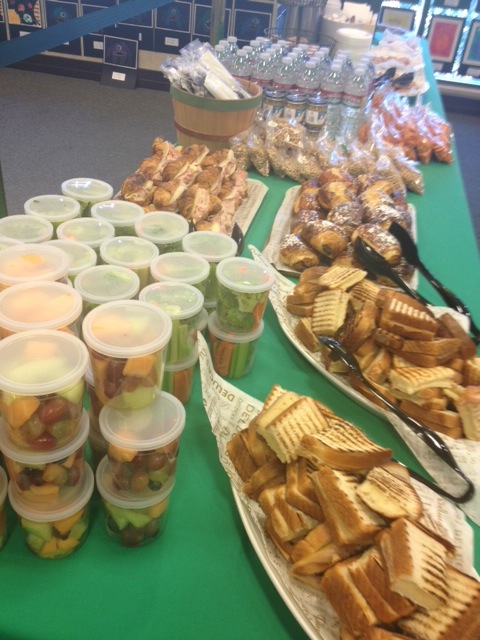 And snapped our mommy-must-be-in-the-photo-because-LilMiss-is-flipping-out photo with St. Nick.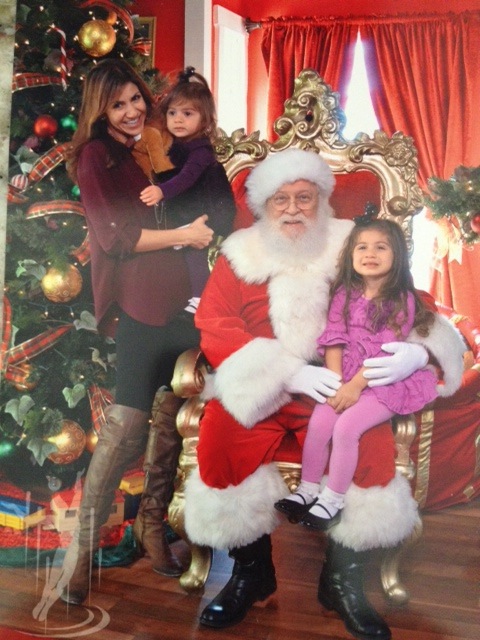 The kids went wild for Santa's story time…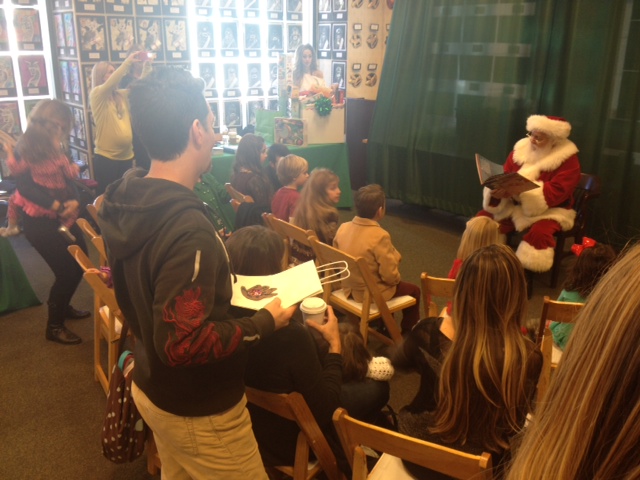 And yeah, TV's Stephanie Stanton and Jeremy Parsons and I also tried to wrangle our little elves when the over-stimulus hit us hard and we melted down from all the excitement…. but 'tis the season.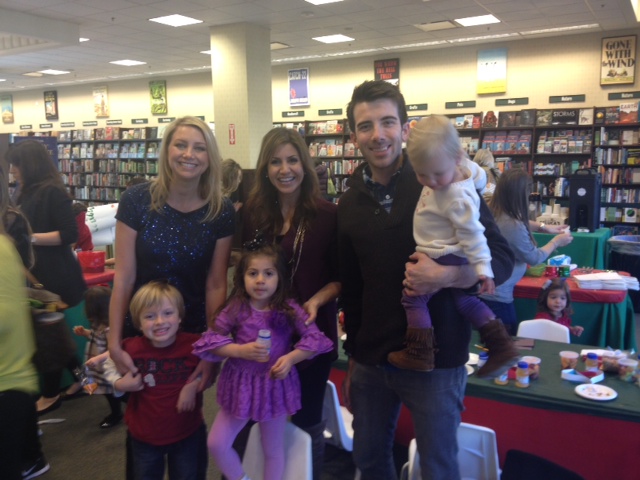 And with all the crazy chaos, we (i.e.: ME) totally forgot to actually take a picture of all the toys we collected. (And here I thought my brain was 'on' that day… Hey, at least everyone had the correctly-sized clothes on this year.) With about 30 parents (plus our kids), I believe we scored a loot of around 40 books, DVDs and toys for kiddos stuck in the hospital this year. I PROMISE. The whole day felt GOOD. It's never too early to explain "giving" to kids, even if they're toddlers. They understand more that we give them credit for. And isn't that what the holidays are about? It's not too late to give a Give-Back Party. Fashion stylist Marina Berberyan does one with her kids every single year, called Kids Helping Kids!
And if you haven't snapped your Santa photo yet (and you happen to live in the LA-area), I'm telling you now: The Santa House at Americana at Brand is absolutely enchanted on the outside and inside, and a portion of the proceeds (from picture sales) go directly to Children's Hospital LA. Now THAT'S a fabulous reason for the season. (And I'll add: The brand new shiny Nordstrom steps outside Santa's cottage is icing on the Christmas cookie.) Happy Holidays to all! WHAT'S YOUR GIVE-BACK REASON FOR THE SEASON? 
Disclosure: TheFabMom was compensated for purposes of this event and post. Every experience, sentiment and opinion is my own.