Season's Greetings! Yes, I know that 'philanthropy' is spelled wrong, but that's part of the fun on TheFabMom: everything suddenly begins with an "F"…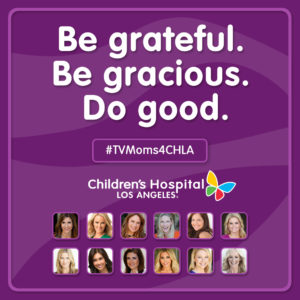 "Giving Tuesday" (aka #GivingTuesday or #GT) is happening again Tuesday December 3, and 'TV Moms for Children's Hospital Los Angeles' (CHLA) are rearing to go. What is 'TV Moms for CHLA?' Well, real-fab-mom Kristin Cruz of LA's KOST 103.5 and iHeartRadio did a fabulous service to highlight our cause (plus a guest appearance from my hubby, who is a surgeon at CHLA) in a recent interview (CHECK IT OUT HERE!). In a nutshell: #TVMoms4CHLA is a digital fundraising campaign happening NOW through #GivingTuesday, December 3. It's a group of recognizable moms that are some of my closest friends/contacts in the TV-world, lending their support and likeness to bring awareness and encourage their fans to consider Children's Hospital Los Angeles for their end-of-year giving contributions. I AM THANKFUL to Kristin Cruz of KOST 103.5, TV stylist Anya Sarre, Brooke Anderson of Entertainment Tonight, Courtney Friel of KTLA, Maria Quiban of KTTV FOX 11, Stephanie Stanton of Al Jazeera & NBC, actress Anne Stedman-Herwick, Weelicious' Catherine McCord, Azteca America's Naibe Reynoso and Shirley Bovshow & Sophie Uliano of my TV-home on Hallmark Channel's "Home & Family" FOR THEIR BIG HEARTS IN SUPPORTING THIS CAMPAIGN. You've seen us tweeting and posting about it. All you have to do is CLICK to contribute.
"TV Moms for CHLA" was a teeny weeny little idea that popped into my head about a month ago, after I attended and was so moved by KTLA's Wendy Burch's "Good News Girls Foundation" luncheon: I realized that the holidays were coming up and I hadn't volunteered as much substantial and measurable amount of my time, resources or human-kindness than I'd hoped this past year. Sure, I'd donated some goods to Baby2Baby and hosted my "Littles Who Lunch" 'fun-raiser' for Operation Smile… but that's about it. My husband is a pediatric surgeon at CHLA and, as much as he respects patient privacy, I'm often privy to stories about kids and families that get stuck in hospitals and the emotional toll it takes on everybody, especially when finances are a determining factor of whether or not a sick kid gets treatment. The limited tales I hear literally make my cry and count my blessings at the same time. And, like many people, I had NO IDEA that Children's Hospital Los Angeles is dependent on donations in order to operate before my husband informed me (for treatments/medicines, services, facility updates and family support groups).
Stories about families bound to hospitals (especially during the holidays) bother me even more than they did before I became a mom. And my fellow TV-moms feel the same way (we've talked about it). As Los Angeles based television personalities we bring you news, entertainment and information to start and end your day. As moms, we want all families to be happy and healthy. We ask you to support Children's Hospital Los Angeles this season. Children's Hospital cares for more kids than any other pediatric hospital in California; more than 104,000 kids each year. Join us in supporting this amazing cause! No amount is too small (or, too big).
And let's be smart-minded here: All donations are TAX-DEDUCTIBLE. (Fabulous.)
Be gracious. Be grateful. DO GOOD. Contribute today.