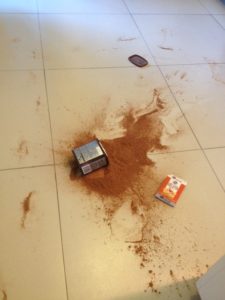 I'm pretty sure my girls will be bouncing off the walls this holiday season. (They already are.) It'll totally be my fault on account of all the butter and sugar they're gonna get, but that's what the holidays are for… right? Making messes with baking goods. (The picture to the left is a real-life crime scene, thanks to LilMiss' recent pantry raid.)
Growing up (for me), "holidays" meant butter, sugar, chocolate, cookies, candy and sprinkles. So what. Looking back, it was also the 'girl-time' process of putting together all that butter, sugar, chocolate, cookies, candy and sprinkles (with my mom and sister) that really meant "holidays." Now that both my girls walk and talk, this is the first year we can all get super sweet together and reinstate my fabulous childhood tradition of preparing holiday treats together. I've decided to start with making sugar come to life around our kitchen table. Don't say I didn't warn you: You might get a contact high just by looking at my 3-year old's colorful creation in the video below. Now that's my kind of holiday!
Please enable Javascript to watch this video
(And here's a fab secret: You don't necessarily have to use homemade dough… for a quickie trick to make life easier with toddlers, just use the sugar cookie in the tube. We do. You can even roll it out and cookie-cut it. Shhh. Don't say I told you.)
WHAT'S YOUR KIND OF HOLIDAY?

DISCLOSURE: This is a #sponsored post on behalf of Target's "My Kind of Holiday" 2013 campaign.