Recently I did another segment for Hallmark Channel's "Home and Family," this time giving tips about saving money at the grocery store (despite the mini-circus that I wrangle while seeking out generic products and Ralph's Club Card discounts). However, if you're looking for more tips on how to save money, THIS POST WILL NOT HELP YOU.
For today's whimsy, I thought I'd share my shenanigans last Sunday: Drunk Shopping.
Don't pretend like you've never done it. Remember going to Vegas with your girlfriends (pre-marraige, pre-kids), downing one too many Long Island Iced Teas at the Hard Rock pool and then deciding it was a great idea to go shopping and pretend like you just won an extra chunk o' change at the blackjack table (when you really didn't)? I did that this past Sunday. Except I wasn't in Vegas. I was at The Grove (just as lethal for me these days).
My answer to my irresponsible behavior that just might send my new sweet friend, Heather / The Krazy Coupon Lady, into a headspin: Sometimes ya just gotta. (I think she would've fainted on the "Home and Family" set had I brought this up when we were shooting.)
But honestly, I'm always conscious of money (ask my friends): I buy generic brands. I don't buy extras like sodas and junk food. I pretty much stick to getting the red tag specials. I buy non-perishables in bulk.
And when my husband was recently gone for a full 8-days on a medical mission to help the children of the world, I only called a babysitter to help me ONCE (for 3 hours). I'm not trying to be a hero… I just didn't really feel like dishing out the extra money.
Which perhaps explains why I hit a major wall 2 days after he returned home and demanded that he watch the girls for a few hours Sunday afternoon. I believe my exact quote was "I need to go." During my drive, my heart pounded. I called my own mother to shout into the phone how I'd "escaped!" as though I'd averted some kind of near-death experience. (Looking back, I think I actually did.) I've been tired before. I've been overwhelmed before. But NEVER like this. I think the burglar alarm sent me over the edge. It finally took me a full two-and-three-quarters years for my resilience and tolerance to hit this point of no return (since LadyP was born), and I FINALLY was convinced that I was going to break in two if I didn't get OUT of my own house immediately.
So when I finally arrived at one of my favorite outdoor restaurants, I sat down BY MYSELF (aaahhhhhhhh!) and immediately copied the seemingly-single gals at the next table over by ordering one of these delicious beauties: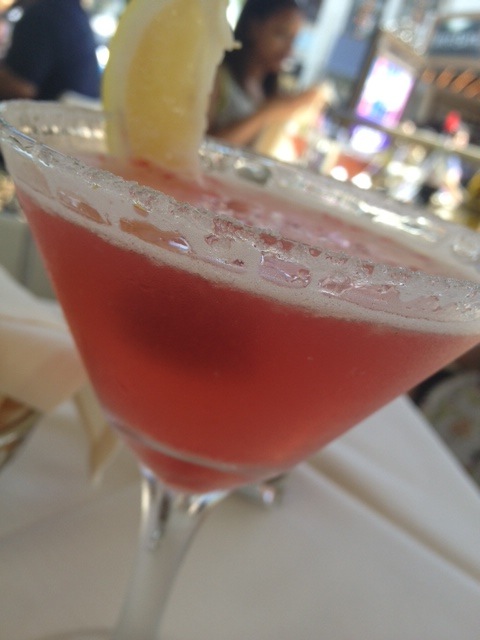 It disappeared before my 3:30pm dinner even arrived:
So I ordered another one: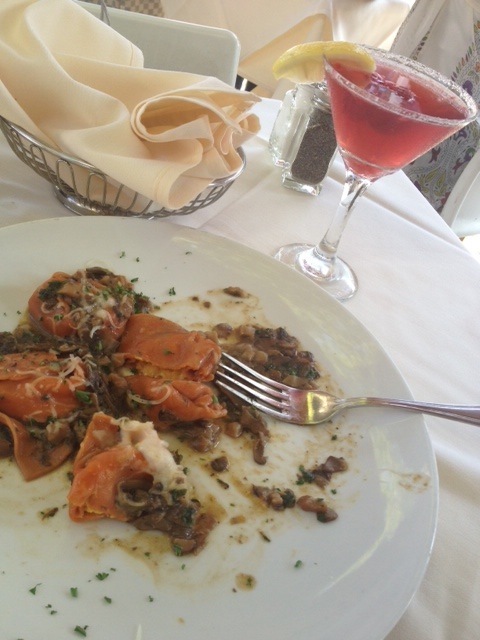 And then, by 4pm, I was spinning. Like, Vegas-spinning. Like, Why did I really need to get another one? This is stupid… spinning. And then I knew what I had to do next: Go Shopping.
I went shopping for all the times I haven't gone shopping in the last year and spent all that hard-saved money (by me) ON me. I bought work clothes. I bought play clothes. I bought practical flat sandals. I bought fabulously-tall platforms (with a pricetag that I'd never paid for shoes before ever in my life… that was the drunk-shopping part). I bought what might be the most sexy-but-very-tasteful 'mom' swimsuit available in stores now (nevermind that we don't have a pool and don't have any vacation plans for this summer). I BOUGHT FOR ME THAT DAY. (I also bought my husband some much-needed clothes too, but don't tell him yet since they're for Father's Day.)
I swear the salespeople knew I was under some kind of influence… I could feel that spacey look in my eyes and am pretty sure I giggled too much as I asked them to bring me various sizes of things I didn't need. But the truth is: I DID need those things.
I truly did need that 3-hour vacation of not pushing a stroller, eating without interruption and looking at myself in the dressing room mirror without two adorable munchkins rolling on the floor at my feet and squealing and me telling them to be quiet in a department store. I needed that vacation from my current reality of new toddler tantrums and unintelligible arguements over the Na-Na.
And only when I had 4 heavy bags to carry did I soberly wish that I was pushing my stroller again… to hang all those bags on, of course.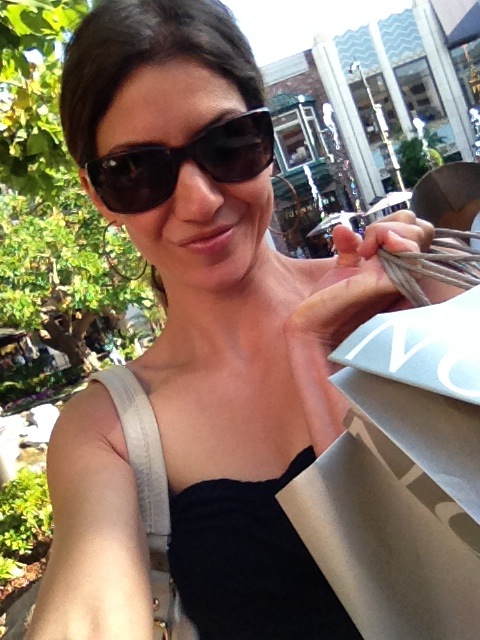 HOW DO YOU BLOW OFF STEAM?