I've had lots of realizations on runways. Last week, I had more. I went to no less than two fashion shows in one week. TWO. Celebrity stylist Anya Sarre hosted LA's Style Fashion Week's Go Red for Women Celebrity Red Dress show (to raise awareness, funds and remind us all about heart-health), at which I got to check out amazing red gowns modeled by reality-stars Gretchen Rossi, Lilly Ghalichi and other recognizable faces.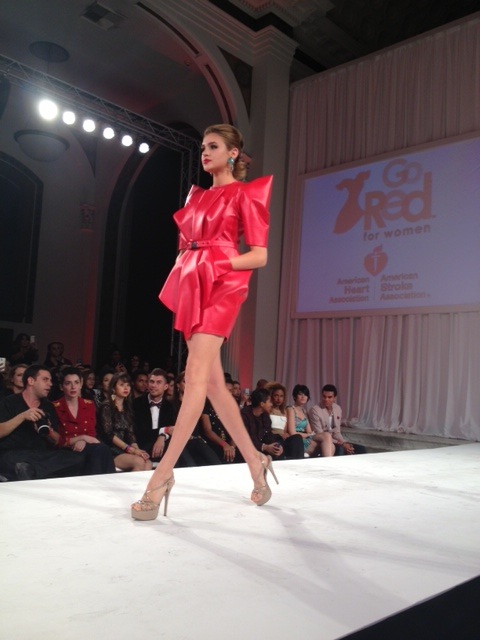 The other fashion show? My nearby Nordstrom's semi-annual children's event, at which I got to watch my little LadyP and LilMiss model their matching girly-whirly, lacy mint-green Easter dresses with about 30 other little darlings.
Yes, you read that right. LadyP is 2.5 (this was actually LadyP's second fashion show, thanks to the ever-fabulous Momfluential) and LilMiss just turned 1 (she barely learned to walk in time for it). Did I think I was crazy for even bothering to put a toddler and a baby in a fashion show? A little. But not enough to not do it.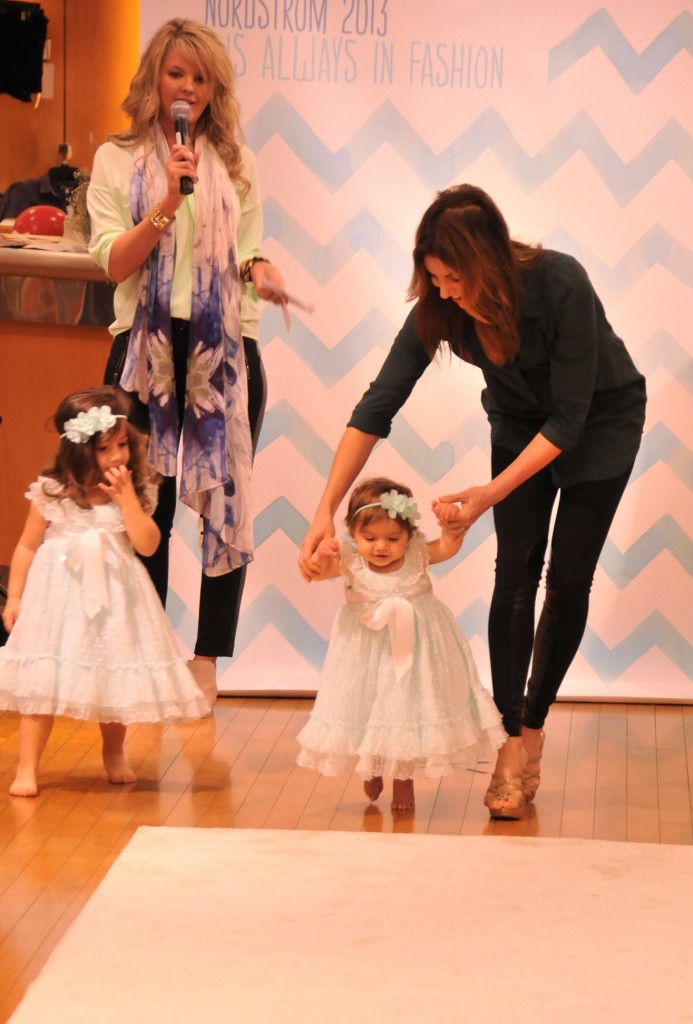 You know what? Both shows were FABULOUS, from the inside-out.
As I sat at the Go Red event earlier that week, I wondered: Why do I love fashion shows so much? Sure, I love style, gowns and all-things-fabulous, but WHY? Is it the glamour of the spotlights? The adrenalinic-rush (is that even a word?) of the photographers snapping shots? Was I excited because this particular show had an all-important purpose behind it? Maybe. But then I realized the most basic reason as soon as it started: I get HAPPY when I see confident women strutting their stuff. Is that weird? I hope not.
With each new dress down the runway came a new woman, a fresh attitude and a dose of confidence that just made me INSPIRED to watch. In a strange way, it ignited my own confidence in myself. And isn't that what life is about?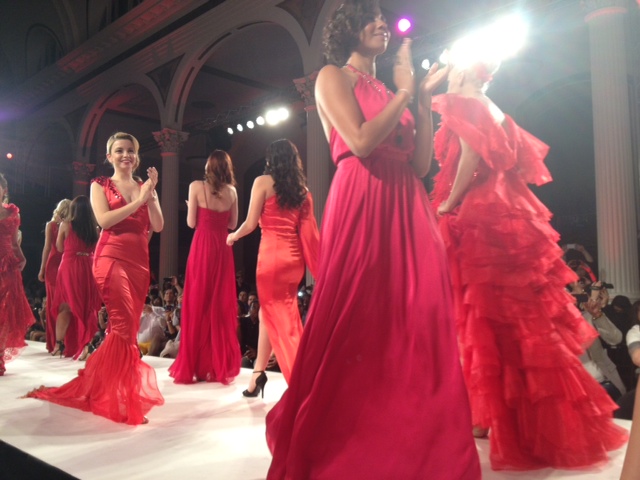 Despite recurring gripes about how fashion shows are detrimental to women's self esteem, self worth and all around well being that surface from various 'how-to-raise-girls' groups on the internet every now and then… I'm here to say plllllltttttthhhhh to that. (You'll read why in the next paragraph.)
Back to my mini-show…
For those who were tempted to (or actually did, for that matter) roll their eyes at me for  putting my toddler and barely-1 year old girls in a fashion show, here's what I humbly think: Dressing up is FUN. Knowing how to look your best is IMPORTANT (let's face it, looking like a slob at a job interview isn't going to land you the big bucks). Learning how to be confident and how to conduct yourself – from the inside-out – in front of a group of strangers is ABSOLUTELY NECESSARY FOR SUCCESS, whatever path you choose in life. And that's why I opted to put my little ones in a frilly-dilly fabulous mini-fashion show. It's kinda like, teach them how to ski before they realize they're scared to go down the mountain…
Of course, I'm not going to deny that I find joy in it too. What mother doesn't feel her heart well up when her little ones look all spiffy and sweet? And Nordstrom's 15% discount on the dresses (if I opted to put them in the show) didn't hurt either! If my girls flipped out that morning and didn't want to walk the white-carpet runway, we'd have not walked it and sat in the audience to cheer on the other kids or we would've gone home. NO. BIG. DEAL. It was a fun thing that yielded funny family memories.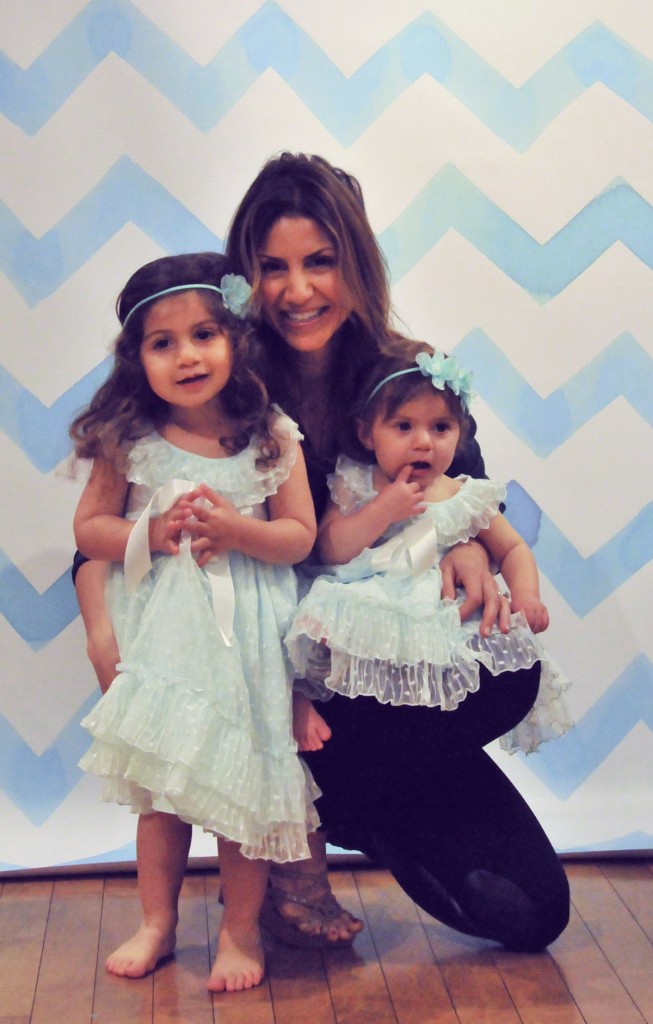 There's so much chatter these days about how adults over-emphasize how "cute" little girls are (as opposed to asking them what books they're reading as a conversation starter) that I think we've FORGOTTEN how to not take ourselves too seriously and just ENJOY the fleeting "cuteness." Can't we appreciate "cuteness" on it's own appropriate level? Being "cute" isn't the most important thing in the world, but when did it become a bad or shameful thing? Here's an UN-PC newsflash: I want my little girls to look cute. (Gasp.)
I will go out on a further limb and argue that a smart, educated, articulate, hard-working and stylish put-together woman who doesn't take herself too seriously in a knockout dress or killer suit is one hell of a powerful package.
With any luck, I hope both my girls grow up to be those kinds of powerful packages. All of our girls can. What's wrong with wanting that?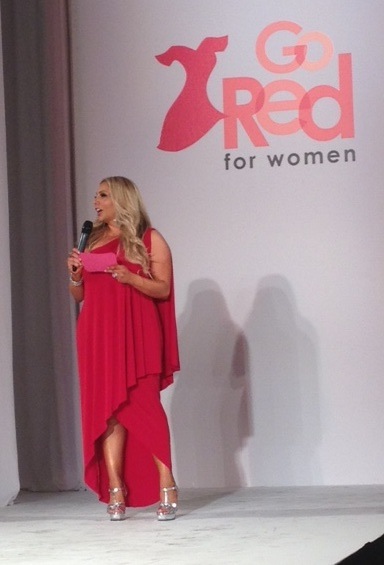 At Go Red, Anya Sarre kicked off the show with a simple reminder for our physical health: "Fighting heart disease is stronger if we do it together as sisters and mothers." Agreed. Well, keeping our hearts healthy emotionally can be done together too. Being confident in yourself keeps your heart happy, content and fulfilled on many levels. If admitting and recognizing together as moms that it's ok to dress our little girls with the intention of looking "cute" (without being reprimanded that it's shallow) is one small way to get that confidence growing early on, well then, this mom is IN. Wanna join me?
Looking good on the outside does make you feel good on the inside… it's a proven fact that can't be denied no matter how much you fight it. Dressing up is FUN and GOOD as long as you keep it in perspective. (That's what us moms are for… to keep that perspective straight. And to make sure our girls are reading books and flexing their minds simultaneously, of course.) Thank you to Anya, Gretchen, Lilly and the rest of the fabulous Go Red models for reminding me of this (and, to get my yearly physical).
Although, I also hope my girls remember that philosophy about being fashionably late should they attend fashion shows when they become moms. Check out my other realization that reared it's head at the Go Red event. Thanks to Lindsay at Expressing Motherhood for shooting this vid and committing this fashion faux pas with me that night! WATCH below. (And hopefully laugh?)
WHAT'S YOUR TAKE? ARE FASHION SHOWS FRIVOLOUS OR FABULOUS?