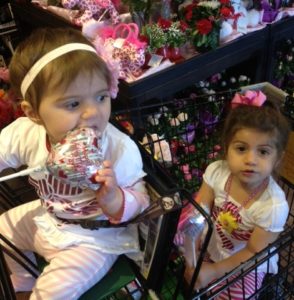 And if I may be bossy, you'd better love you, too. I mean really, truly, LOVE. None of this fake-like "I think I'm doing an okay job" stuff will do for us moms…. oh no. No no no. Because if the Mom of the house doesn't figure out a way to LOVE herself and realize and agree that she's doing a bang-up job as head of household, then everyone else under her roof is going to be confused, lost, unsure, insecure and cranky. You know it's true.
I've thought a lot about V-Day today… especially because I was thrilled to join a feisty chat on HuffPostLive about how a day for "love" is now sucking a lot of our money away. But I digress… it's time to make V-Day about US now, solely because of how much we love our families.
I've made no secret about my sentiments regarding a certain "F" word (and "G" word, for that matter). My little fab-challenge to you this love-day is to make the choice to love yourself. I know how cheezy-weezy this sounds, and I'm almost making myself sick as I type the words.
So this V-Day, I've completed my "dares" and am patting myself on the back.
WHY? Because I love my brood too much to do otherwise. And I know you do too.
So Happy *Fabulous* Valentine's Day to YOU.
HOW WAS YOUR LOVE DAY?