Yeah. Moms are smart. And cool. And fun. And know how to create products that will work for our families, give us a giggle AND often give back to our communities all at the same time. If you caught my recent show-and-tell on Los Angeles' KTLA-5's Weekend Morning News, you know what I'm talkin' about. Check out the amazing mom-created products for fun in this summer's sun below… Watch the vid, click on the links below & have fun getting to know these fabulous LA-local mompreneurs!
OH! AND IF YOU WANT TO WIN ELI'S LIDS FOR YOUR KIDS, JUST LEAVE ME A COMMENT OR DROP ME AN EMAIL ABOUT YOUR FAMILY'S FAVE THING TO DO IN THE SUMMER. WINNER(S) WILL BE CHOSEN & ANNOUNCED HERE FRIDAY, JULY 13! Now get a load of these: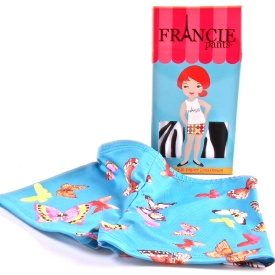 FRANCIE PANTS. Show 'em London, show 'em France… you know the rest. Except now, it's OK to do it! Thanks to the incredibly creative mom-of-4 Ciaran Blumenfeld of Momfluential, active little girls (and women, for that matter) don't have to worry about showing the world their skivvies when running, jumping, swinging from trees, doing cartwheels in the front yard, or whatever else that involves one's skirt to fly up. Made in the USA, silky poly blend, dozens of crazy colors & designs (for summer!), sizes that range from infant through a women's 6/8. $16.50.
MD MOMS. As if being successful pediatricians & busy mothers weren't enough. Doctors Diane Truong and JJ Levenstein had to go and 'over-overachieve' by inventing gentle & innovative products formulated for babies' skincare, functional for easy-use and committed to a designated children's charity every year. Made in the USA, Babysafe Sunscreen Towelettes ($26) are SPF 30 and appropriate for sensitive skin of all ages (even under 6 months!) & the Baby Silk Delicate Skin Comfort Liquid Powder ($22) is a talc-free lotion that transforms into a stay-dry powder to keep those 'sticky places' dry. That even means under your arms, moms.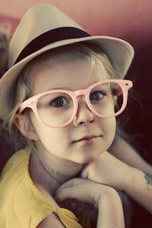 ELI'S LIDS. Kara-Noel, Orange County mama of 4-kids-under-5 (ahem! did you hear that? 4 under 5!) started this homegrown biz back in 2006 when her first son was born as a way to keep things fashionable for her little boy. Fedorables are a perfect sun-hat. (Helloooo… didn't you see Britney Spears' kids recently saying farewell to Hawaii in fedoras?) Almost 25% of Eli's proceeds are donated to charities helping children/families. Fedorables are $14, other styles are even LESS than that. Totally mom-made… and appropriately named after the little boy that inspired the whole thing… Eli. (REMEMBER, YOU CAN WIN ELI'S LIDS! DROP ME A COMMENT.)

NAMASTE BILLBOARD TOTES. What to do with heavy-duty coated canvas billboards that have been taken down and would otherwise go to a landfill? If you're 2 sisters/moms from Canoga Park, CA you make a tote perfect for the beach. (And then you make easy mesh 'Oh Snap! Pouches' to go with them… to store your sunblock, flip-flops and other beach items!) Color-customizable, 100% vegan, PVC-free materials and completely handmade by women trying to earn an income (they even include a personal note to you inside your bag). W.O.W. Billboard Totes, $38. Set of Oh Snap Pouches, $21. Also, 10% of the sale of light pink Namaste products are donated to The Breast Cancer Research Foundation.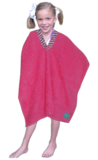 SHOW NO TOWELS. The ultimate kids 3-in-1 towel! Wear it to cover up, change under or just dry off at the beach or after a bath. SoCal mom-of-2 Shelly Ehler created this clever idea after getting tired of holding a towel around her boys at swim lessons so they could change in privacy… now she just throws them on the kids and lets them change under them! Pair this with a water gun and flip-flops and you've got a mean birthday gift! Boys & girls, $19.99. Shelly also writes great blogs about life & love from time to time… my favorite one here.

SIEMPRE VERDE. The FIRST wood eyewear brand to offer sunglasses and prescription lenses delivered to your door. Mom-of-2 Rose Ann Salumbides wanted to provide a unique, quality product fusing nature, environmental responsibility and style at an affordable price point. 'Siempre Verde' means 'Forever Green.' The glasses are made of all natural woods including bamboo, ebony, birch and zebra wood. Siempre Verde also lives up to it's name as a member of 1% of the Planet (reforestation of 1 new tree for every eyewear purchase). Prices range between $120-$153.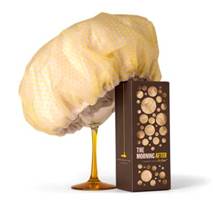 DRYBAR 'THE MORNING AFTER' SHOWERCAP. Ever since launching LA's & NYC's 'blowout-only' salon Drybar, LA-based mom-of-2 Ali Webb searched high and low for the perfect shower cap to help clients extend their blowouts… and also stay dry (and maintain their hairstyle!) while splashing around with kiddos in the family pool. She finally gave up searching and invented her own. 'The Morning After' cap is lined with terry cloth, so it won't trap humidity the way plastic caps do and will help extend your blowout/hairstyle for a few extra days even if your baby splashes you in the face. $15 at Drybar shops and TheDrybar.com.

HAVAIANAS FOR BABY BUGGY COLLECTION: 'MOMMY & ME' FLIP-FLOPS. Did I mention these summer kicks are exclusively designed by LA celebrity moms Tori Spelling, Courteney Cox, Rebecca Romijn and Marie Claire's Fashion Director & Project Runway judge Nina Garcia? Oh, and there's this fab charity component too: 10% of sales are donated directly to Baby Buggy, a nonprofit (founded by Jessica Seinfeld) dedicated to providing families in need with essential equipment, products, clothing, and educational services for their infants and children up to age 12. Adult sizes, $26. Kids, $19. Available exclusively at Nordstrom and www.us.havaianas.com.
AND KEEP CHECKING BACK HERE TO WIN MORE COOL STUFF… THE FAB MOM HAS BEEN KNOWN TO DO 'SURPRISE' GIVEAWAYS…