And to think that I can't stand SUVs. Don't like driving 'em… but now trying to find the humor in pushing them. The irony. I'd be lying if I didn't admit I've been dreading this day.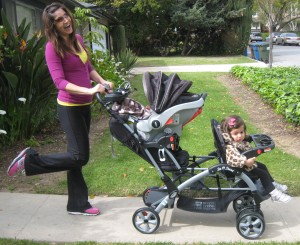 My tips for minimizing the ridiculousness? Don't wear red (otherwise someone might mistake you for the caboose on a train making it's way through the local mall). Try to coordinate everyone's outfits (my pink top, LadyP's pink bow… even LilMiss had a pink blanket on, which you can't see). Don't forget your sunglasses (how else are you supposed to remain incognito, should someone on the train start screaming uncontrollably without notice).
And DON'T forget to smile with attitude even though you might feel that you look like an idiot… moments like these are fleeting. Now I just need the courage to actually take this big ol' suburban train in public.
WHERE DO *YOU* THINK OUR FIRST OUTING SHOULD BE?