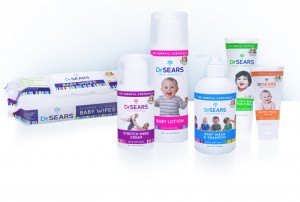 One of my little-known obsessions is putting on lotion. When I wake up, go to bed, before a shower, after a shower, morning, noon and night. No unfabulous dry skin for me. So when Dr. Sears contacted me to test new baby care products for review on this site, naturally I said yes. More like hell yes.
Dr. Sears Baby Care is in an all-natural personal care line for new mothers and their babies and uses no harmful chemicals or ingredients. The line was developed with the expertise of nationally-recognized author, doctor, and father of eight, Dr. Bill Sears, and consists of baby lotion, body wash and shampoo, diaper rash cream, stretch mark cream, and more.
Here's what I found:
Not to be selfish, but the Stretch Mark Cream is my FAVE by far. I finished the bottle in a few short weeks because I kept smearing it all over my then-pregnant belly. The scent is a light citrus (although my Hubby thought it smelled like oatmeal?!?!?!) and it smoothed easily on my skin, was not greasy and absorbed quickly. Not too thick, not too thin. And my belly (after-baby) looks just right. No stretch marks here (although I can't say if this is solely because of the cream or not since I started using it in my 9th month of pregnancy).
As for the baby products, I really have mixed reviews. Here's the good part: The Healthy Baby Bottom Cream and Baby Lotion are weightlessly-light, smell fresh and citrusy and come in easy-to-pump toddler-proof containers. LadyP (now 17 months old) also appreciated that her demographic was adequately represented on the packaging: She kept pointing to the bottles, exclaiming "Baby!" Made for great entertainment during and after bath time. However, there's also a not-so-great part: I regret to say that my little girl did have issues with the Baby Wash & Shampoo (it got in her eyes and seemed to irritate her… she complained a bit after bath time, saying "eye" as she rubbed her eye) and the Diaper Rash Cream made her squeal instantly (as though it was stinging) when we smeared it on. Whether these reactions stem from a cranky toddler's mood, a genuine dislike of the products or a sensitive skin issue that I'm currently unaware of, I'll never know. As for the Baby Wipes? They seemed a little thin for the *big* diaper messes and lacked the citrus scent that the other products have… but that's just my opinion. Although the products boast all-natural ingredients and are created by a renowned pediatric doctor, I wouldn't be doing my job here if I didn't share the whole truth of my experience with you. F.Y.I.
But let me repeat: THE STRETCH MARK CREAM, BABY LOTION AND HEALTHY BOTTOM CREAM PASS MY FABULOUS TEST.  :)
THAT SAID, *YOU* CAN TEST DR. SEARS' BABY CARE LINE YOURSELF: TO ENTER TO WIN A GIFT PACK OF THE ENTIRE DR. SEARS BABY CARE LINE, DROP ME A NOTE BY WEDNESDAY, MARCH 28 NOON (PST)!
DR. SEARS BABY CARE IS ALSO NOW AVAILABLE FOR PURCHASE AT TARGET.
TheFabMom was generously gifted products from the Dr. Sears Baby Care line for consideration of mention/review on this site. All opinions are my own, and are merely opinions based on my personal experience with the products.