Yes, I love to eat. Yes, I love to cook. But screw the big bird. That's NOT why I volunteered to host Thanksgiving this year. I wanted to do Thanksgiving so I could play with my wedding china and dining room table. It brings me happiness, joy and makes me feel productive. So there.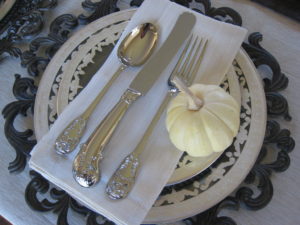 OK, and I genuinely did want to cook a turkey just so I could say I (hopefully!) conquered the little traditional beast during my lifetime… but that was really the secondary motivation.
Some may call my favorite part of having a dinner party frivolous, but I'm not too proud to admit my addiction to exploring all things fabulous and creative. When my sister and I were younger, we used to tease my mom about how she'd try and replicate fabulous parties "like they do on The Young and the Restless." No kidding, we were all that ridiculous (but it added to the fun… ah, the holidays that Nikki, Victor and Kay Chancellor would have!) Turns out I'm not any better as a grown up… except now I base my parties on what the Real Housewives would do. (FYI: In my next life I might decide to come back as someone who can spend all their time and money at places like Geary's Beverly Hills. Just for the hell of it.)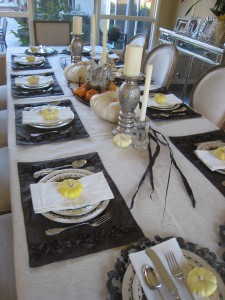 But since I don't have an all-Geary's-all-the-time budget, I did a mix of cheap and pricey. Here's what's on my table (WARNING: Do NOT attempt this until your toddler is asleep!):
Tablecloth & Napkins (in Ecru): Crate and Barrel.
Satin Chocolate Placemats: Bed Bath and Beyond (found 'em on sale for $1.99 each).
Candlesticks: Wedding gifts and random finds.
Dishes & Flatware: Arte Italica & Oscar de la Renta for Lunt (again, wedding gifts… these are the only items that you actually can find at Geary's and other fine stores).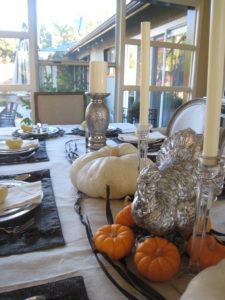 Pumpkins: My local grocery store… on SALE after Halloween (little ones for 99cents, big ones for about $5)!
My Husband's Favorite "Where-the-hell-did-you-find-a-silver-turkey" turkey centerpiece: Z Gallerie.
As for the round frilly bronze chargers on the ends…. sorry, got those at a random boutique sale YEARS ago and actually forgot I had them until I opened up my china cabinet.
Oh! And the brown branchy-looking things laced and sprawled between everything? Yanked some of those out of a vase that permanently lives in my den year round (from Crate and Barrel too…. around $10 for a HUGE bunch).
LOOK AROUND YOUR HOUSE TO FILL YOUR THANKSGIVING TABLE-SCAPE, AND HAPPY DECORATING (OOPS I MEAN EATING)! SHARE YOUR FAB TIPS THIS SEASON!