Sure, the fridge is packed, wine is ready to pop and potatoes waiting to be mashed.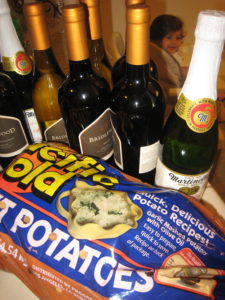 The Little Miss Housewife in me is way too excited about cooking Thanksgiving this year… the bird, those ooey-gooey marshmallow yams and everything in between. (Any day that's centered around counting your blessings with your mouth full is tops my book.) But the upcoming holidays go beyond family, food, friends and blessings. You'd better figure out what you're wearing. Pronto.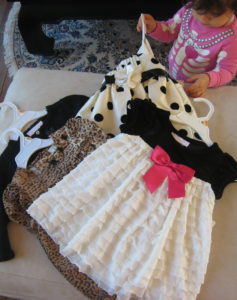 Many months ago, I wrote a little musing asking if Your Baby Was More Fab Than You… Yes, I still believe that he/she should be. Dressing up for the holidays is something that seems to fall by the wayside too many times in young mommyhood. We're tired. It's complicated. They don't wanna put on tights. They're cute enough as it is. Yeah, kids are entertaining and lovable enough without adding bells, whistles and bows, but dressing them up makes the occasion… an occasion. It makes an impression. It makes people remember. It makes it more fun. (People often don't know why certain events seem to have more spark than others, but some do, true?) You can argue that booze might have something to do with it, but I've always believed that clothes have something more to do with it. Your style sets the mood from the second you open that door. The "host" should be the centerpiece… and in the case of mommyhood, the "host" is often the little one(s). You bet I'm sending LadyP to answer our doorbell on Thanksgiving day.
As a mommy to 1 little girl, I often read articles that preach how we don't want to send the wrong "frivolous message" to our soon-to-be young women. I agree. But whatever happened to teaching that presentation is the whipped cream on the pumpkin pie? If you've got the goods on the inside, isn't it more empowering to take pride on the outside as well?
Dressing up is not THE most important thing, but for me it's right up there with the food and company.  Sorry, Lisa Bloom. It's OK to take pride in your appearance AND celebrate life's special moments. You just need to keep them in perspective. Looking "cute" can be just as powerful and positive as reading a good book or accomplishing something rare. And if you do both…. you're unstoppable.
Not to mention that the grandmas go nuts over it… and isn't that also what the holidays are about? Having fun and and creating moments with those you love? Maybe even reading a good book in a fancy dress on grandma's lap after dinner. Hmmmm….
So there's my little rant to kick off this Thanksgiving week. Eat, drink, be merry and grateful… and remember that shopping to dress your own little turkey is JUST as important as the stuffing itself.
Happy Shopping!