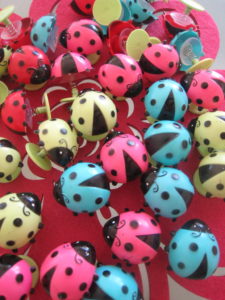 Last Saturday, September 24: LadyP's long-awaited Ladybug Picnic (aka: my first baby's 1st birthday party). It was also the day that I interviewed Hugh Jackman for his new movie "Real Steel." That's right folks, I WORKED THE DAY OF MY LITTLE GIRL'S PARTY. Fret not: the interview was in the morning and the party was at night…. but damn I have been recovering ever since! (For the record, Hugh's got nothin' on ladybugs.)
So the day of my LadyP's party would go something like this: Wake up 7am, get dressed and glammed for Mr. Jackman, drive 45 minutes to the interviews, return home around noon, then get the house/food/LadyP and rest of everything party-ready for 35 family and friends that would be knocking on our door at 4:30pm. It all worked out, thanks to my obsessive ability to spread out my tasks at hand and actually get things done well before they are supposed to be done. Since my workweek unexpectedly was packed beyond belief every day leading up to the party – and since I was already booked to work the morning of the party – I knew I had a challenge in front of me. I wasn't going to screw up my baby's 1st birthday. No way. We would have food, cake, fun, games and extra… even if it meant the end of me. All moms must call on their inner Wonder Woman at times, and this was my turn.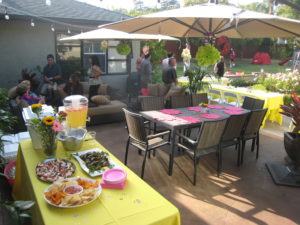 Here's how I made it work… and here's how you can too (should you be faced with a similar unexpected situation in the future). It's not rocket science, but I think it's pretty good advice for a rookie idiot with only one baby to worry about:
1) THINK AHEAD: Even if you aren't a working mom, you never know what can come up the week/day of your big event. Buy plates and all non-perishables weeks before the party. (I actually bought those pink placemats and plates you see a few weeks before.) That way it's DONE, in your house and ready to go.
2) MAKE A LIST: Write everything down and check it off the old-fashioned way (even for tasks that include 'call this person' or 'email this company'). Keep the list in your purse at all times and check it frequently to remind yourself that you have stuff to take care of… and just DO IT.
3) USE EVERY SECOND: This is MOST important one. If I've learned anything from working in TV news, it's that every second counts. Literally. You can get more done in 2 minutes here and 2 minutes there than you think. Time adds up if you don't use it, but it also adds up if you do use it.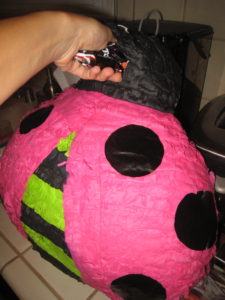 So, last week found me in my backyard every night after baby went to bed. I potted plants in my patio at 10pm on Monday night. I filled my utensil caddy, opened packages of napkins and stacked paper plates on Tuesday night. I hung butterfly decals and pompoms from our umbrellas on Wednesday night. I set up tables and chairs (with little ladybugs spread all over the place) on Thursday night. On one of those hazy nights I filled the ladybug pinatas with candy. Hubby thought I was nuts and kept telling me to just come to bed, but I knew better.
Then, I shopped for my perishable ingredients (for my salads and appetizers) after work on Friday afternoon…. so that the only thing left to do on the day of the party was to find out if Hugh Jackman really broke a WWE wrestler's jaw, rush home, mix the cream cheese spread for my red-pepper-and-olive bars and set up the food in a countdown to 4:30pm party time.
It all worked out and I've recovered. The party was a hit (I think?) – I just remember laughing and noise and eating and playing and smiles…. and LadyP's tiny face in a birthday hat (thanks to my Aunt Judi and her keen eye for all things funny). If you ever find yourself with too much to do in too little time, just remember that whatever you need to do IS possible… if you use every single minute wisely. HAPPY BIRTHDAY LADYP!
GOT ANY CRAZY BIRTHDAY PARTY PREP STORIES? SHARE!