So I've learned a few things this summer… thanks to my childhood idol Punky Brewster. No, I don't attempt to wear different-colored socks anymore (like Punky did) but thanks to a grown-up gal now known to the online community as @moonfrye, I'm more prone to embrace the chaos of life, love and motherhood more than I was a few months ago. Soleil's candid book about the ups, downs and in-betweens of mommyhood, "Happy Chaos," hits stores TODAY!
AND, YOU CAN ENTER TO WIN A SIGNED COPY OF THIS FUNNY AND HEARTFELT READ JUST BY DROPPING ME A NOTE!
Yes, somewhere between the fabulous 80's and now, Punky grew up. Soleil Moon Frye now has two darling little girls (with some pretty rockin' names), balances multiple career endeavors (including her own eco-friendly children's clothing store called The Little Seed in Los Angeles), is a Mommy Ambassador for Target, a busy wife AND maintains a sunny personality through it all.
As excited as I've been to cohost HerSay alongside Soleil every few weeks and chat about topics like million-dollar treehouses, banning children in restaurants and whether it's ok to dress your little baby in a bikini, I've also learned a lot. Punky used to teach me how to stand up for what I believed in, and now Soleil has taught me the same thing on a 'mommy' level. Crazy how life works! Through giggles between takes, Soleil has also taught me how celebrity mommies wrestle through the same thoughts and challenges as the rest of us.
HAPPY CHAOS: From Punky to Parenting and My Perfectly Imperfect Adventures in Between encourages us to be ourselves and embrace the change (and inevitable chaos) that comes with raising a fulfilled family. The book is chock-full of pictures, stories and Soleil's personal 80's nostalgia (as she lived it!) alongside icons like Johnny Depp (who surprised her at her 12th birthday party), Michael Jackson (who once babysat her!) and spilling cherry Coke all over Muhammad Ali's white tuxedo (yikes). And although Soleil shares her funniest and most heartfelt moments in the book, I couldn't help but ask her a few more questions…
What do you still do for YOU to keep a bit of 'pre-kids fabulousness' in your life these days? I try to spend quality time with my friends and arrange date nights out with my husband where we get to go to dinner or a movie and just enjoy one another's company.  If we don't have a babysitter, sometimes I'll light candles in a room and just make time for us to talk.
Any urge to encourage your own little girls to enter show business? If they're like me, I won't have any say in the matter!
Now that you're a busy mom, how have your views/thoughts about your own mom (during your childhood) changed or evolved? I look at my mom as a hero, but I always did.
SO, DROP ME A LINE TO ENTER TO WIN A FREE SIGNED COPY OF 'HAPPY CHAOS.' Contest ends tonight (Wednesday, August 24) at midnight. And if you don't win, you can still order or pick up a copy in stores now through Moonfrye, iTunes or Amazon!
Now go and rock your different colored socks in honor of your own happy chaos….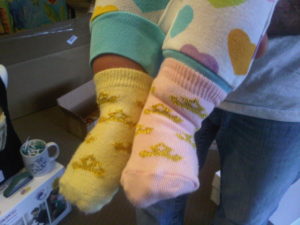 CONGRATULATIONS TO ROXANNE OF UNINTENTIONALLY-BRILLIANT.COM FOR WINNING A SIGNED COPY OF HAPPY CHAOS!