I've had a major attitude problem the past 4 months. Correction: My intended good attitude has not been as successful as I'd imagined. This woman needed some fun for mom… and baby. As of April, I've no longer been a 'city girl' and have been lamenting it ever since. Thanks to a silly little dream of owning a home with Hubby, I'm now a 'suburban' mama. (Insert tears here.) I'm not ungrateful, but I'm also not a liar. I miss living in the center of all things exciting, hearing noisy traffic and knowing that semi-weird/borderline-crazy people are just a stone's throw away from my front door (we used to live in the heart of Hollywood). So today, my sidekick (LadyP) and I took drastic action: We went back to our old hood.
I knew exactly what I needed.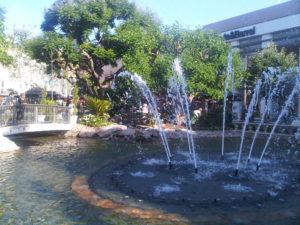 I needed to see trendy, hot, young people with odd fashion choices. I needed to see fancy cars. I needed to see the dancing waters at LA's The Grove (my previous go-to hangout). I needed to relive my fabulous youthful days and memories of shopping with my girlfriends when I was carefree (not that I don't LOVE my mini-me, but you get what I mean?).
I stepped into my sky-high gold wedges and questioned my sanity while driving the full 1.25-hours to get there (thanks to Friday afternoon LA traffic). Stupid. Did I really need to do this to feel 'fabulous?' How fragile and shallow am I? Idiotic. LadyP's wide eyes from the backseat kept staring at me as if to say "You really are immature Mommy. Why aren't we just going to the mall near us?"
But all was worth it. I was in bliss for 4 hours. (I didn't want to leave…. true!) Trendy young people scurried around with too many shopping bags that they probably couldn't afford. Music blasted everywhere.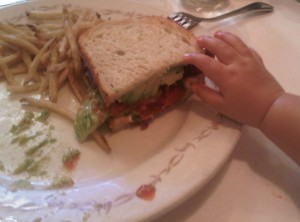 The MOST amazing BLT sandwich and fries was had for lunch (which then resulted in avocado being smeared all over my white top, thanks to a tiny pair of curious fingers). The purchase of some most-needed fabulous stilettos, more eyeshadow and some bangin' feather earrings was made. LadyP smiled at the dancing waters.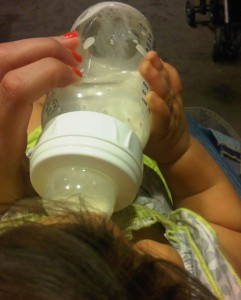 Hell, LadyP was in such great spirits that she even attempted to hold her bottle for the very FIRST time! (Yup, she's kind of a diva… 10 months old and she still insists I feed her… please write in if you've got any pointers about this… I'm desperate!)
My point: Getting the hell outta my hood did more unexpected wonders for my feeble soul than I could've imagined. I've felt like I've needed a little jolt for a long time, but had no idea how much I needed it until taking the long road back to my past (with my mini-me in tow). I even have a feeling LadyP had a blast… she was such an angel the entire time and kept smiling up at me. Never underestimate the power of a simple change of scenery. We strolled, we shopped, we ate, we drank, we people-watched. (Yes, this might trump all those previous shopping trips with girlfriends… sorry ladies.)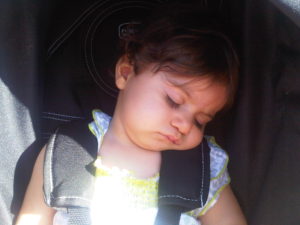 And we were pooped afterwards, but fulfilled. Never question what your soul says you need… even if it might seem a little shallow. Based on my day today, I'll tell it to you straight: it's worth it.
What have you done that was silly, shallow and much-needed?