This weekend was a blast, as a bunch of fab friends celebrated our soon-to-be NEW fab mom and her incubating little girl. (And oh… did we teach this little girl how to FLIRT.) Here's a decorating idea to add a bit of flutter to your table centerpieces the next time you throw a baby shower:
BUTTERFLIES! All flowers are even prettier with butterflies… right?
Of course, this stems from my unexpected Fab Find Friday post (see just below), when I shared with you how I found a bunch o' blingy organza butterflies at my local Pier 1 Imports last week for about $8 each. Instead of hanging these little buggers on the wall or from the ceiling (as they're supposed to be used), I removed their strings and tied their little wings up to some vases (using the ribbon that's already attached to them).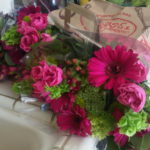 Toss in some ready-made floral arrangements from your local market (I used Trader Joe's mixed bouquets for about $12 each) and you are DONE. How's that for quick and fab pizazz?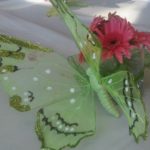 It's soooo easy, I'm almost embarrassed… but it was so much FUN. Try it… ANYBODY can do this. (And for those of you planning shower for a little boy on the way…. Pier 1's got yellow DRAGONFLIES too! Think about it.)