Some people live day by day. I live hour by hour (and I will argue it's better). You might want to try it too. I'm just recovering from my Saturday: it was schizophrenic… highs, lows and wild moments of in-between. The skill of 'staying in the moment' is a muscle that I'm beginning to believe is the most valuable us moms can learn to flex. This past weekend proved to be somewhat of a boot camp for mastering this skill.
SATURDAY INCIDENT #1: Trying with all my might not to cry my eyes out while being falsely accused of lying and getting ripped a new a$$hole by an angry publicist in front of my journalism peers because I asked Justin Timberlake about recently purchasing Myspace and what he plans to do with it. Click here to watch how JT responded on HLN's Showbiz Tonight. (Believe it or not, my little question that prompted his impressively-dodgy response caused quite the unforeseen and arguably-unreasonable drama at the interview that day.) My TV career flashed and ended before my eyes until I realized:
Get over it. It's finished. Move on. (I was honest in my actions, respectful and my bosses were happy with my work… that's all I'm responsible for, right?)
SATURDAY INCIDENT #2: Arguing with Hubby about a babysitting situation that I saw as wrong and he saw as right. We were both right. And we were both wrong. Which made it a typical hubby-and-wife-argue-about-baby-stuff-because-they're-simply-2-different-people-with-different-opinions scenario. I was infuriated. So was he. I was tempted to act like a real annoying bi-atch when he came to meet me for our date night (described below) after my long day of work, until I realized:
Get over it. It's finished. Move on. (I pretended like the argument never happened upon seeing him… thus making date night a blast.)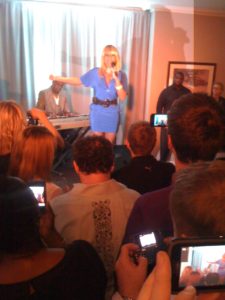 SATURDAY INCIDENT #3 (aka date night):Attending an incredibly intimate cocktail party AND live performance by Mary J. Blige compliments of Disney/Dreamworks studios. Ms. Mary serenaded us members of the press with her song featured in Dreamworks' new movie "The Help"… a song that may very well earn her an Oscar come February 2012. Incredible. Inspiring. Tear-inducing for me (the third time for me having tears that day). I was feeling so utterly special and slightly-arrogant that I had been a part of such an elite group of colleagues participating in this song-debuting event (and that I scored such a memorable date-night for Hubby and me), until I realized:
Get over it. It's finished. Move on. (I'm still the same chick who has to empty LadyP's overflowing & stinky Diaper Genie when I get home.)
Learning to experience emotional highs and lows as they are thrown at me (to surrender to them, react, deal with, revel in, celebrate and then move on once the moment is over) is proving to be a key to success for me. Living hour by hour keeps me functioning and on-track for getting done whatever it is I need to get done. I'm learning to live the moment, recognize it, then move on so that I can be alert, awake and present for moments like these: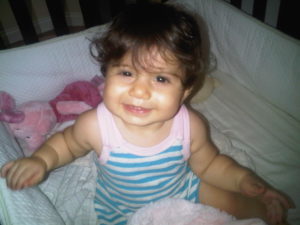 How do you cope?
Tweet this!