If there's one thing that I've learned in my crazy line of working in TV/news, it is: EVERY MOMENT COUNTS. TIME IS OF THE ESSENCE. TREAT EVERY SECOND AS THOUGH IT IS YOUR MOST PRECIOUS RESOURCE. I'm beginning to think that my news classes in college were really teaching me how to be prepared for successfully juggling the work, fun, love and time crunch of motherhood.
In my next life, I want to be born into a world that has a 40-hour day… maybe even 50. Since I'm stuck with this 24-hour thing, here are a few ways that I sometimes squeeze everything in: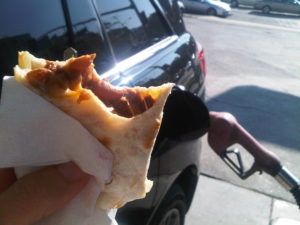 Instead of getting enough sleep, drink more coffee. Sleep with your makeup on and then just touch it up in the morning. Instead of a shower, slather on extra yummy-scented lotion/spray. Take a catnap in your car after work while waiting for the ATM machine. Grab your lunch/snack/dinner at the service station and eat it while pumping your gas.
And this was just my Monday. I don't recommend these methods for the long term well being of one's life, but sometimes there just ain't no better option. To maintain fabulousness, sometimes ya gotta slip into UNfabulousness. Balance is good.
What do YOU do to make your world work?