Yes, I'm new to this mommy-thing, but I'm not new to pining over luxurious products. My latest lust-worthy subject is PLUSH. Described on their site as "the posh little urbanites show" for new and expecting parents, I was skeptical. (Afterall, I was that shellshocked pregnant chick a year ago that used to scoff at events having anything to do with baby and/or bellybump luxury. I'd rather go shopping for shoes, right?) Now, I'm inclined to shop for both. Through further investigation (also known as 'now an excited member of the parent club and always looking for things to do that welcome little people who don't walk or talk yet) PLUSH is the place to oooh and ahhh over some FABULOUSLY fun and useful products that you can actually get discounted deals on if you attend the show. FOR A CHANCE TO WIN FREE TICKETS TO PLUSH AT LOS ANGELES' VIBIANA ON JUNE 5, DROP ME AN EMAIL BY MAY 31! Or, purchase your own tix to PLUSH ($20 each) by clicking HERE.
Before you drop that email or buy your own way in, take a looksy at a smidgin' of the things you'll find at PLUSH. WARNING: SUPER FAB-FINDS AHEAD.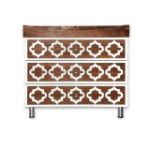 PetitNest. Made in America, Eco-friendly… and TO DIE FOR! The most gorgeous baby furniture (cribs, dressers, changers) that I've seen… ever. The brainchild of beloved actress Tiffani Thiessen and award-winning designer Lonni Paul, PetitNest is whimsical, sophisticated and created to practically exist in your home after your little nugget grows up a bit. Their latest service includes custom-designing your nursery and delivering all the items in a stunning box to your door! Talk about a fab-gift from Grandma. If only LadyP hadn't been born 2-months before this line launched last year… Products & prices vary.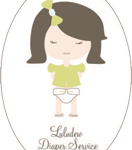 Luludew Diaper Service. Somebody once told me that diapers take 500 years to decompose. My heart broke with guilt when I heard this. Luludew serves the Los Angeles area with full-fledged organic diaper service – to you door – every week… for about $100/month.
LaPetiteCouture.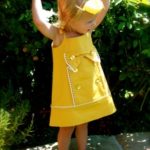 I used to try and figure out how to get myself one-of-a-kind clothing, but now I'm thinking about LadyP's fashion statements. This French-inspired collection was launched about a year and a half ago by an artist turned mom turned sewer turned entrepreneur! The Sunny Sunshine Shift dress (right) is handmade with fine fabric and priced at $68, but other designs and pricepoints vary. AND, TheFabMom IS GIVING AWAY A $100 GIFT CERTIFICATE TO LaPetiteCouture! KEEP CHECKIN' IN THIS WEEK TO WIN…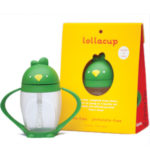 Lollacup. I'm just introducing LadyP to sippy cups… and these are some super-cute sippies… but BETTER. Stylish, functional, BPA-free and created by a mommy, this little thing that looks like a birdie smiling at you has a flexible, valve-free straw that works to wean wee ones more easily than a usual sippy. $18 each.
Milkin' Cookies.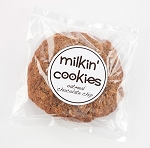 Love cookies, love the name… and love anything that might make your own cookies bigger after childbirth. Cooked up by two fabulously-inventive physicians – who also happen to be mommies – these cookies are made with food galactogogues (substances that can boost milk production in new mothers). All natural with no additives or preservatives these tasty treats are safe to feed to hubbys and kiddos too. Shipped to your door anywhere in the USA. $45 for a 1-month supply.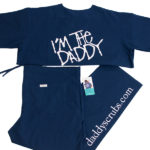 DaddyScrubs. These are my doc-Hubby's fave… I wish I had these 8 months ago! Created by a pharmacist – and daddy of five – these scrubs and shirts are made for new daddys to wear in the hospital while helping their laboring wives. Best to know who's the daddy and who's the doc, right? Tons of options and gift boxes available on their site. Scrubs are about $40.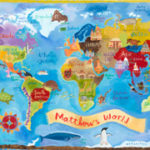 Oopsy Daisy Fine Art for Kids. Art and color stimulate kids' minds… regardless of age. Founded by a husband and wife, Oopsy Daisy boasts bright and unique stretched wall art and room decor… and also happens to be really nice to humanity: Every year, Oopsy Daisy donates a portion of annual sales to non-profits that benefit kids, including The Elizabeth Glaser Pediatric Aids Foundation, ZERO TO THREE, and K.I.D.S. Products and prices vary. AND, TheFabMom IS GIVING AWAY AN Oopsy Daisy MAP OF THE WORLD THIS WEEK! A $300 VALUE… KEEP CHECKIN' IN HERE TO WIN!

ERGObaby. True, I resisted registering for one of these because I was convinced that I could just use my stroller and carry LadyP on my hip. Cut to NOW (aka me eating my words): I've got painful & annoying tendonitis in my wrists thanks to constantly picking up and carrying my growing LadyP around. 'Nuf said. You need an ERGO. Tendonitis sucks. Carriers start at $115, but products and prices vary.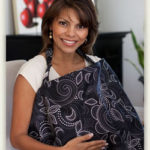 Bebe Au Lait. Chic covers for nursing mothers… and that's exactly what they are. Specially designed by a nursing mommy who wanted to hide her hooters in a haute way. Way to go, mama! Stylish prints and also a variety of products including bibs and burpcloths. Hey, do you have a dress to match these? Nursing covers, $35.
The Pump Station in Santa Monica & Medela Nursing Essentials.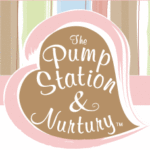 If you decide that nursing is right for you (or curious about it), and you happen to live in Southern California, go to someplace that has the hippest name in town (aka 'The Pump Station!') You can even create a registry there… and get some sexy post-baby/nursing clothes too!
REMEMBER TO CHECK BACK HERE AT TheFabMom.com TO WIN MORE PRIZES THIS WEEK!