Get the *BRAND NEW* mom in your life something she'll *USE* to keep her fabulous this Mother's Day. If someone you love just had a baby in the last few months, this stuff is for you. All flirty, fun, functional… and personally tested and adored by yours truly. Happy shopping!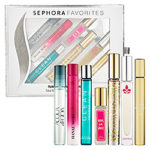 Sephora Favorites Rollerball Collection for Her. True to legend, new moms do NOT have time to shower. (I was skeptical, until I started living it.) Get Mommy something to hide this dirty secret from the rest of the world. $65. Available at Sephora.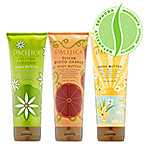 Pacifica Body Butter. Deliciously-intense moisturizing cream that will make the entire new mom's body smell like a cream puff between messy feedings and dirty diapers. $18. Available at Sephora.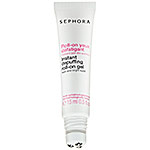 SEPHORA COLLECTION Instant Depuffing Roll-on Gel. An easy roll-on gel that instantly shrinks puffy eyes from all those sleepless nights the first few months… and beyond. $15. Available at Sephora.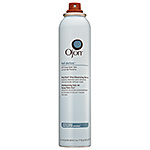 Ojan Full Detox Rub-out Dry Cleansing Spray. No time for the new mom to wash her hair? No prob. Spray this on, let it dry then rub it out. Bam! Seemingly cleaner hair (for all the times sleep wins over showering). This was – and still is – my reputation saver. $24 for the full size, $13 for the travel size. Available at Sephora.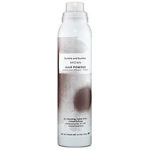 Bumble and bumble. HAIR POWDER. A dry cleansing spray, but with a color tint to hide post-childbirth hair loss (or any gray/roots that the new mom can't get around to covering). Extra-fab. $35. Available at Sephora.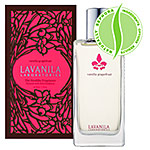 LAVANILA LABORATORIES Vanilla Grapefruit. A delicate but potent spray to cover any odeur involving spit-up, dirty diapers or (again) failure to bathe oneself. I happen to love the citrus scent for summer, but take your pick. $19-58. Available at Sephora.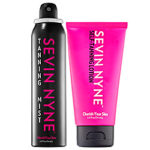 SEVIN NYNE Tanning Mist & Self-Tanning Lotion. Make the new-mom feel slimmer and sexier in seconds. Bronzed skin instantly takes 10lbs off, and this stuff is as natural/organic as you're going to get for a sunless tanner. But what about the smell? Absolutely delectable. $35 each, or $35 for the compact duo. Available at Sephora.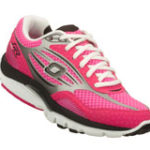 SKECHERS Women's Prospeed SRR (with Shape-ups technology). I know what you're thinking, but these suckers actually do tone your butt and legs during daily activities if you can't get to the gym. (And what new moms have time to get to the gym?) They kept my tushy tight, are super-lightweight (8 oz), and minimizes stress on tender post-childbirth joints thanks to the midfoot strikepads on the bottom. $100. Available at Skechers and other fine stores.

Timi & Leslie Convertible Collection. What diaper bag? No, this bag carries all of my accessories. Keep the new mom stylin' with a bag that hides the mess of poopy diapers, snot suckers and baby wipes under a glam exterior. Prices range $100-200. Find a store or shop online.

Rejuvenation Alignment & Mobility Kit. Forget Pilates. I prefer to use this to self-massage and relieve my aching back, arms, legs, whatever. $25. At Target, Walmart, CVS & GNC stores.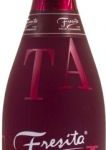 Fresita. Freshly unique, Chilean sparkling wine infused with strawberries… for new mommies that desperately missed their glass of vino while pregnant. Mmmmmmm. About $20. Find Fresita near you.

Gourmet Coffee! I couldn't/can't survive without my java every morning (and sometimes afternoon)… Peet's Coffee happens to be the strongest. Don't let your new mom's pantry run empty like mine always did. Stock her cupboards with some gourmet varieties to keep her humming along and happy all day… or, join Peetniks to get it delivered to her door. Prices vary.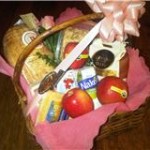 Healthy, gourmet gift baskets. New moms don't have time to get to the grocery store or cook, so send something pretty that will also provide food in the house. The Hubbys will also appreciate this one. How big or how small is up to you. I got mine made (left) at my local Ralphs Fresh Fare, or you can order online.
And if all else fails, diamonds work too.