Give up a new mom challenge? Now way. Although I came this close. I was not responsible for the vomit on the floor, but I may as well have been since I felt like hell before, during and after it happened. My hubby blames it on too much milk too fast. I blame it on too much change too fast.
As go-getting as I like to think I am, the real me doesn't deal well with change (good or bad). I'm guessing LadyP takes after her nutjob mom based on the projectiled-mess she committed in her nursery at 10pm the night before our big pack-up and move into our new home. One minute she was sucking on a bottle, the next minute there was a yellow fountain o' formula arching from her mouth. It was impressive (puttin Linda Blair in 'The Exorcist' to shame), drenching me, the changing table and Diaper Genie in one solid spew. (Apologies to my apartment manager for the disgusting stain on the carpet.)
Running between jobs, auditions, coordinating sitters, choosing paint colors, signing all that damn escrow paperwork and preparing for the movers to come the following morning, LadyP did exactly what I've felt like doing the past month. When it happened, my first instinct was to flip out and cry but my gut made me chill. Instead, I grabbed and worked the baby-blue snot-sucker thing on her (so she could breathe), stripped us both down, gave her a quick bath (me in my bra) and held back my tears while I waited for Hubby to get home after a late night working at the hospital. Suck it up Jill. Don't be a baby now that you have a baby.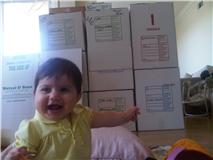 I grew up (aka was positively brainwashed) by the phrase "Handle it." Tough love reigned. Thank God! Life gets complicated: SO WHAT. Figure it out.  We all get overwhelmed (my husband can attest to all the times I've temporarily turned into a basketcase) but then I push myself to get over it. There was a baby that needed to be soothed, boxes that needed to be taped up, carpet that needed to be cleaned… and I was the only one around to do it. No time for wimpy breakdowns. (Although the tears did come when Hubby got home… but just for a minute.) And then I realized just how thankful I am.