(Get your minds outta the gutter. Ha!) This week's Fab Find is the exact opposite of what the title of this post suggests. It's wholesome, sweet and very near and dear to my heart. It's also a perfect Mother's Day gift for a mom (and/or a brand new little girl). If you're from my hometown, you might already know about it.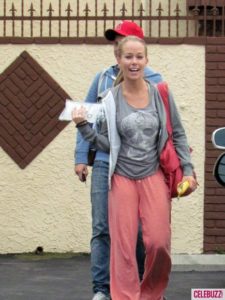 If you're not, then you've probably seen Kendra Wilkinson wearing it at her Dancing With the Stars rehearsals. Or, maybe you've noticed actresses Kristen Stewart and Ashley Greene (from those little Twilight movies) flaunting it in magazines. You too can rock it. And now so can your baby (mine does).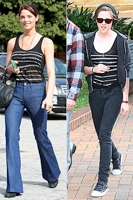 It's SIMDOG. LadyP loves it almost as much as I do. A onetime nickname of someone very special, SIMDOG is a project of love (launched by my own stylish & sassy cousin about 7 years ago following a family tragedy). Aside from continuing and honoring the vibrant memory of an angel that will live in my family's heart forever, SIMDOG (the brand) is FABULOUS. Cutting edge, flirty, fun and dramatic designs splashed on tanktops, T-shirts and tunics of all shapes and sizes. (I actually wore some of the A-line, flowing designs while I was pregnant… and my mini-me is the current inspiration for SIMDOG'S budding baby versions.) Personally tested by LadyP herself, the baby tees are super soft and stretchy… perfect for slipping right over a onesie and pairing with socks, stretchpants or legwarmers.
The shirts also happen to be unexpectedly functional for soaking up spit-up, drool or anything else that might drip out of your baby's face. They're easy to wash (toss in the machine), so much more hip than dorky baby-bibs and instantly turn your nugget into the coolest kid on the block. And if you're wacky enough like me, you can mix and match yours with your little ones' to do a Mommy+Me twin-day here and there for giggles.
Buy SIMDOG online (for yourself) at Shop Rumor, SIMDOG'S Facebook Page, or one of dozens of stores around the world. At the moment, the baby tees are a 'special order' type of thing… but they're available in almost all the regular adult designs. Just contact SIMDOG via email and tell 'em LadyP and her FabMom sent ya. Shop happy, shop often, shop SIMDOG.