Need CHEAP ideas for FAB invitations & flowers? I usually don't share my secret how-to's when it comes to party-planning, but LadyP's recent baptism (involving a 60-person family dinner) filled me with so much love and joy that I'm making an exception. Here's how to make your baby's special event fun and unique on a budget. (If you're skeptical of my ideas/taste, take heed that I worked in high-end event planning for 5 years before I started working in TV!) Here we go…
First up: INVITATIONS! I'm a sucker for a good invitation. Invitations are the MOST important part. It's the guests' first intro for what's to come. A boring invitation leads to a boring party. It's true. The appearance of the invitation should surprise people and get them excited. For a Baptism, I wanted to evoke purity, sweetness and delicate simplicity… while also making it fun.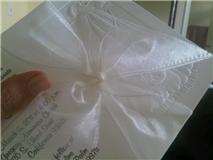 I used Storkie to order the actual invites. Good quality paper/printing (raised/embossed!), economically-priced, easy-to-use online service, prompt delivery. Then, I took some girly, sheer ribbon I had (leftover from my wedding) and tied it in a knot around the card (it kind of looked like a cross… get it, "Baptism"). Tuck the whole thing in the envelope and mail (check Post Office policies first, though).
Next up, FLOWERS (my least fave part, but necessary). I'm a firm believer in "investing" a few hundred bucks on a fabulous dress (without batting an eye), but I've never been one to pay big money for flowers. The way I see it, flowers grow in the ground. Technically, they're intended to be free. I repeat: Who wants to waste a fortune on flowers when you can use that money for a fabulous dress? My philosophy, however, is eclipsed by my extremely obsessed, egotistical pride about making sure things look pretty, fun and fabulous when guests walk into your event. My tip? USE BABY'S BREATH: It's cheap, full, whimsical and…. hellooooo: it does have the word "baby" in it! It's almost like you must use it. Fluff it out in small vases (like I did below, alternating with store-bought callalilies and ranunculus). 3 bunches of Baby's Breath (about $5 at the grocery store per bunch), 3 bunches of callalilies and 4 bunches of ranunculus provided me with enough flowers for 18 small bubble vases (of course, I cut the stems to fit). Keep your flowers small and simple… remember, the party is for a BABY. You don't need trees growing out of the middle of the tables to set a nice scene.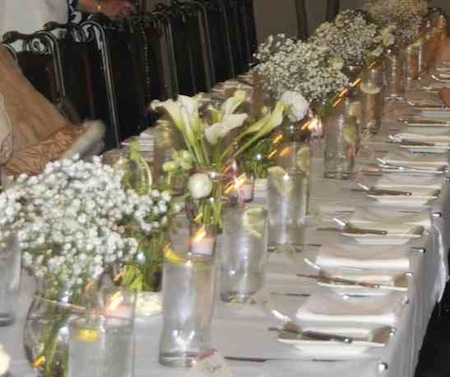 *FAB-EXTRA* Buy and use vases from 99cents Only Stores: I found the bubble vases pictured priced at TWO for 99cents. (Yes! TWO for 99cents!) Dress 'em up by tying ribbons, chains, beads or whatever lights your fire around the necks. I used silver chains and pink ribbons (because LadyP told me that's what she liked).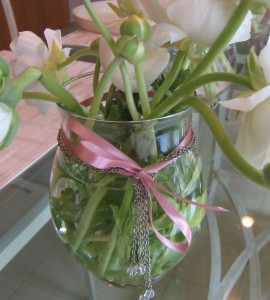 Granted, I actually ENJOY doing stuff like this. And, it does end up being significantly cheaper than the standard 'use-a-florist' route (if you have the time). Putting together the vases/blossoms took less than an hour-and-a-half, not including shopping time. And YES, I used the remainder of my budget to get myself a new dress (almost as important as LadyP's gown… very important for Mommy to feel/look good too! Do NOT forget yourself. It's not worth anything if you don't look put-together.) My other fave part of the whole night (besides the baby-blessing thing)?
That FABULOUSLY YUMMY pink champagne cake!