Be informed, new mommies, you may soon lose the use of your thumbs, hands and/or wrists. For those of you who teasingly call me a bitch for fitting back into my skinny jeans months after having my baby, please take satisfaction in the fact that (although I may have my a$$ back in shape) I can no longer bend my wrists without wincing, whining and writhing from the sharp, poignant pains that shoot from the base of my thumbs up to the inside of my forearms constantly.
At first, I chalked up my debilitating condition to exhaustion and general new-mom aches from lifting my little one (and her ridiculously-heavy carseat). I suspected it'd go away as months passed. Wrong. I hate this, I hate this, I HATE this. God above, please heal my humble hands. I need them. LadyP needs them. My hubby even needs them.
According to my hubby (who also happens to be a doc), I've officially got "tendonitis"… compliments of changing hormones that haven't quite adjusted properly since LadyP's birth FIVE months ago. Honestly, this is like some kind of sick joke. I get more pissed – and my wrists more painful – every single day.
For any medical-buffs who might dig a little doctor-jargon, check out this article explaining it all: De Quervain's Tenosynovitis.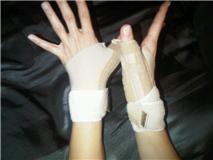 Until I bite the bullet and go for the cortisone injections that are supposed to heal this bitch of an ailment, I will indefinitely be popping 600mg of Ibuprofen (3 Advil) 2-3 times per day. I'll additionally be sporting these lovely wrist-splints 'round the clock (as much as possible) for the next 4-6 weeks per doctor's orders/Hubby's bossiness. Try typing/texting/tweeting/working-on-camera/changing-a-diaper/living-life with these suckers on. Totally UNfabulous… despite my skinny jeans.
Do I have any splint-sisters? Give a shout.