"I get strict with my Goddaughter… I get strict with other people's kids," Jennifer told me with a slight chuckle when I interviewed her (with Adam Sandler) a few weeks ago for their movie Just Go With It (in theaters now).  Adam also attested that the former Friends star would be much "stricter" than him should the time ever come that she has kiddos of her own. "Strict but loving" Sandler said. "Of course [also] loving!" Aniston interjected. Who knew that Aniston and I were kindred spirits?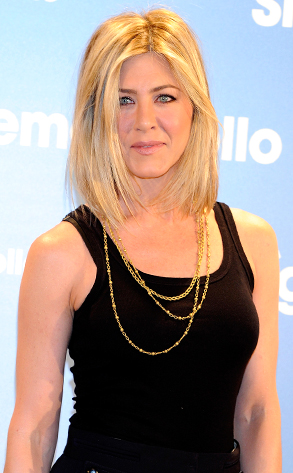 That was the extent of my conversation about discipline with Aniston (I don't claim to have any further knowledge or details about her philosophies regarding child-rearing, other than her few quotes above), but she reinforced something that I've believed in for a while: that it's ok to tell other people's kids to sit down, be quiet or play nice IF called for. Now that I have the clout of being a mom, I'm sick of pretending that other kids' wild behavior is ok because they're 'kids.' It's NOT. I didn't grow up in a world where my parents allowed me to run amuck, and I'll be damned if I'm going to raise my little girl as a brat who doesn't respect others and understand the meaning of the word "no." I know plenty of kids that are well-behaved, but I also know some that aren't. I respect that each parent disciplines differently, but here's why I haven't been shy about my humble philosophy if the need arises:
KIDS SHOULD KNOW YOUR RULES: For the good of our social structure, kids should learn what is respectful behavior towards adults outside their home. What might be acceptable with their parents might not be ok with you at your house. I've had plates broken and beautiful cakes smashed by dirty little fingers (before being served to guests) because I assumed the parents would see their kids' behavior and say "No" to prevent disaster from happening in my home. Wrong. Be assertive for the sake of your own personal property (and sanity), and it might rub off on the kids. You soon might become the only adult that they listen to… and the only grownup that has the power to serve cake without fingerpokes.
OTHER PARENTS SHOULD KNOW YOUR RULES: This is just a respect-for-your-fellow-adults thing. If you reasonably take charge when absolutely warranted, maybe their parents will realize that you don't tolerate out-of-control nonsense, and make an attempt to enforce some of your rules – when in your home – out of sheer embarrassment. In the case they get angry, well, that's an adult-to-adult conflict that must be dealt with sooner rather than later. Nip the bad behavior in the bud while the kids are young. (Otherwise, the problems might only get worse as your kids grow up together and reckless behavior becomes potentially dangerous.) Best-case scenario? Their parents might thank you for having the gusto to teach their kids some basic manners and prevent their kids from hurting themselves (say, from jumping off the couch).
YOU NEED TO PRACTICE YOUR RULES: I've heard that one of the hardest parts about parenting is following through with discipline. Some say they feel guilty about being a "Mean Mommy," and that it breaks their heart to see their wee ones unhappy with punishment. Who exactly is in charge here? Since I was raised in a household with consequences, I figure there's no harm in testing my skills on a modified scale. I want to have the confidence and experience when it comes time to put LadyP's bad behavior in check. Build up your disciplinary confidence for correcting your own child's bad behavior when it's time.
DISCLAIMER: This philosophy is currently my experiment, and takes shameless guts. You might also feel like a real bitch for a brief time. Fear not, it's for the greater good. Why am I doing this? Because I LOVE them.
Besides Jennifer Aniston, who's with me?