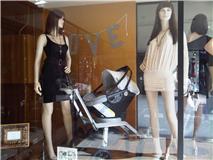 Despite my hubby's protest about the title of this entry, I wonder if I'm walking a fine line of sexy/slutty lately. Check out this picture that my sister texted me of a storefront window… Upon seeing it, I squealed with delight and thought it was a fun and brazen display of the 'new, sexy mom' (vamping alongside a stroller)…until my sis commented on the mannequins' "slutty dresses" and wondered how/why any designer would create a scene like this. As appropriate as her opinion seems, it was also strange for me to hear from her… considering that my sister's past activities involve wearing miniskirts to church. (Although, I do admit that the white dress on the right pushes provocative a bit too far.)
Our little debate made me question some of my own recent choices though: Do I look like a tramp stomping around in my high-heeled, over-the-knee boots while pushing my stroller around town? What do those young, boutique-salesgirls think of me when I'm shopping/trying on short dresses with stilettos and my own baby in tow? Should I be trading in my flirty before-baby wardrobe for more conservative attire? Ugh.
I wasn't conservative before baby, and I don't foresee becoming conservative now. The thing that scared me most about becoming a mom was the thought of not looking like, feeling like or acting like myself after my baby was born. Keep in mind: I'm not interested in being confused for someone soliciting men on Hollywood Blvd, but I enjoy my fitted dresses and skinny jeans. I know I'm not alone in this. Why should I change my wardrobe just because I'm a "Mom?" If I want to wear a sexy dress out to dinner, I will! And that goes for pushing my stroller around in tight black leggings and thigh-high, high-heeled boots.
I suppose there's always the question of whether or not my attire will set a good example for my baby girl, but I've always been a believer that the most powerful thing in this world (for a woman to be) is attractive and sexy on the outside and smart and moral on the inside. Yes, you can be both… and yes, I hope LadyP will be both. I remember my own mom making the effort to look foxy while simultaneously teaching my sister and I what was right and wrong behavior… and we turned out to be upstanding, responsible adults (minus a few questionable-but-harmless trips to Vegas).
I'm also beginning to think my perspective is a combination of wanting to challenge myself (to look like the same girl I was before-baby) and just not having a choice to look otherwise (because of what I do for a living). Celebrity moms I've interviewed in the past (Kate Hudson, Brooke Burke, Isla Fisher, Jessica Alba) can rock the minis and heels (when appropriate), and you and I can too. Afterall, stars are just like us (if you read Us Weekly, anyways). So, until the Modest Police come and clean out my closet, I'm gonna have fun with my clothes… stroller or no stroller.
So back to the picture: Is it slutty or sexy? Set me straight.