Baby's First Christmas. It's all so sweet and romantic, no? No. No one tells you that becoming a new mom near the end of the calendar year might also mean that you miss Christmas altogether (or whatever you happen to celebrate).
My first Christmas with my first baby was… unexpected. I'd imagined this serene scene at my sister's house with family and friends gathered all around me and my babe as she cooed and oohed and aahd at the holiday lights. Nope. Boy was I delusional.
Holidays with a baby meant…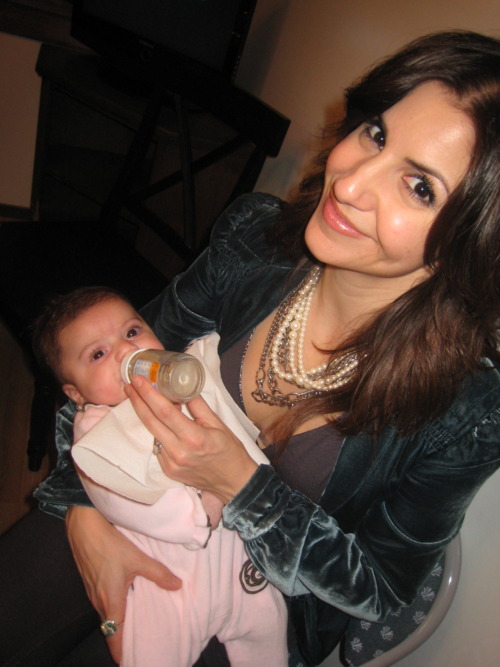 Scarfing down dinner alone at a long dining room table by myself (after all of the food had been put away), not having dessert, unsuccessfully attempting to drink 2 cocktails (that I wound up setting down in exchange for picking up a bottle), fragmented conversations with family members I hadn't seen in ages, a formerly-fabulous velvet jacket that now boasts a crusted-spitup stain, spending most of my time in the rear bedroom soothing my cranky & overstimulated infant (why were you crying, my little LadyP! it was Christmas… the most wonderful time of the year!), wondering why my precious child chose that magical night to scream her head off in front of all my relatives, bickering with my husband about whether or not our baby's legs are cold, opening countless gifts for a pint-sized person who didn't know what was going on and was seemingly miserable to even be there (and who now has more clothes than I do), looking for an open drugstore in the rain because I failed to pack enough formula… and wondering what the hell happened to the fantasy "First Christmas" I imagined in my head! At least now I know… that's what can happen with a newborn during the holidays.
Twisted as this sounds, it was the best Christmas ever. I'm still smiling thinking about it.
DO YOU REMEMBER YOUR BABY'S FIRST CHRISTMAS?